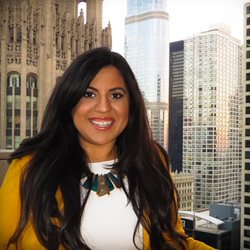 Detroit, Michigan (PRWEB) August 03, 2017
The eating disorder treatment program, IDC-Eating Disorder Care announced the appointement of Christine Elkhoury as Program Director. Mrs. Elkhoury is a Registered Dietitian, certified by the Commission on Dietetic Registration and is a member of the Academy of Nutrition and Dietetics. She completed her undergraduate education in Nutrition, Dietetics, and Hospitality Administration at Northern Illinois University. Her interests in marketing and management led her to pursue a dietetic internship that was coordinated with a Master's in Business Administration at Dominican University.
Christine is very passionate about building healthy relationships with food and has spent over seven years serving the eating disorder population. Her professional experience with eating disorders includes working with both adults and adolescents in a variety of behavioral health care settings including residential treatment, partial hospitalization, intensive outpatient, and outpatient treatment centers. Mrs. Elkhoury attends educational seminars on eating disorder treatment on a continuous basis and stays current with most recent evidence-based practices.
Alexis Sears, LLMSW and Admissions Director comments on IDC's new Director, "Christine immediately demonstrated her knowledge, ability and enthusiasm about public speaking to bring awareness to eating disorders in hopes to educate the public on risks, prevention, and treatment." Ms. Sears continues, "IDC and our clients are simply fortunate to have her on board."
Christine joined the IDC team in May and has been serving as the Marketing and Program Coordinator as well as the lead Dietitian. Her unique role combines her talents as a clinician and business professional. She loves to give back to the community by accepting and training dietetic interns, from various Michigan universities, who are interested in working with the eating disorder population.
IDC-Eating Disorder Care is a Joint Commission Accredited program specialized in the treatment of eating disorders. Our integrative treatment incorporates medical and recovery models, nutrition therapy as well as daily mindfulness interventions. Our exceptional, highly qualified team of professionals includes world-class physicians, psychologists, nurses, registered dietitians, licensed social workers and counselors, yoga therapists, and recovery coaches. These professionals incorporate the latest findings from research in the field of eating disorders, including neuroscience, genetics, and psychopharmacology, into our treatment programs. For additional information, please visit http://www.idcedc.com