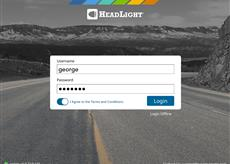 HeadLight helps us stay ahead of issues, keep on schedule and make more effective decisions through accurate data collection.
SEATTLE (PRWEB) August 02, 2017
Pavia Systems, the leading software and technology firm focused exclusively on infrastructure construction, announced today it has entered into a partnership with the Contra Costa County Transportation Authority (CCTA). CCTA will use the HeadLight Project Intelligence platform on a $71.3 million dollar project to place an interchange on a major highway to ease traffic congestion.
Pavia Systems' HeadLight platform enables transportation project inspectors and engineers to collect real-time project data including photo and video capabilities, equipment and personnel tracking, and automatic geolocation and timestamping for quick and comprehensive documentation of project activities to aid communication and risk mitigation.
"Pavia Systems' HeadLight software has transformed the way we manage our infrastructure projects," said Ivan Ramirez, CCTA manager. "HeadLight helps us stay ahead of issues, keep on schedule and make more effective decisions through accurate data collection. We have already decided to expand our use of  HeadLight on two future CCTA  projects taking place on I-680."
The CCTA interchange project, called the Balfour Project, was started in February 2017 and will add an interchange on SR 4 that will ease traffic congestion for the cities of Brentwood, Antioch and Oakley. The road currently has stop lights which results in traffic congestions and delays. With help from the HeadLight platform, the Balfour Project is currently 20 percent complete and on schedule to be completed by the end of 2018.
The California-based transportation authority met with Pavia Systems prior to the project start in hopes of finding ways to improve the way it manages project inspection and contract administration processes. Since implementation of five HeadLight units, CCTA has seen increases in efficiency, due to the ability for one inspector to collect three times more information per day compared to pen and paper methods. The improvement in quality and quantity of information collected is crucial to the overall management of CCTA's construction projects.
"Pavia Systems is proud to partner with proactive and forward-thinking leaders like Contra Costa County," said Si Katara, President and Co-Founder of Pavia Systems. "CCTA's proactive use of HeadLight shows its commitment to safer, more efficient work environments. This is precisely the reason we created the HeadLight Project Intelligence Platform."
Pavia Systems collaborated with industry experts to develop the HeadLight platform as a tool for transportation construction teams to increase productivity and prevent losses. The product addresses communication issues critical to the success of infrastructure projects. By increasing collaboration with the contractor and maintaining open dialog with stakeholders from day one, HeadLight helps to minimize risks and save money.
About Pavia Systems Inc.
Pavia Systems, Inc., founded in 2005, is a technology company delivering Project Intelligence to transportation construction teams through its core platform, HeadLight. The platform helps clients accelerate delivery, reduce risk and increase accountability of construction projects by streamlining and mobilizing project inspections, communications, and documentation. The HeadLight platform has been used on more than $10 billion worth of transportation construction projects nationwide. Customers include large departments of transportation, top-tier consulting engineering firms, contractors, equipment manufacturers, and industry-related materials companies. For more information, please visit http://www.paviasystems.com/.