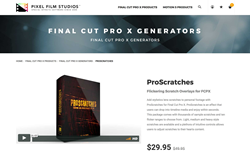 This Plugin adds Lens Scratches easily to footage.
Aliso Viejo, CA (PRWEB) August 01, 2017
Add stylistics lens scratches to personal footage with ProScratches for Final Cut Pro X. ProScratches is an effect that users can drop into timeline media and enjoy within seconds. This package comes with thousands of sample scratches and ten flicker ranges to choose from. Light, medium and heavy style scratches are available and a plethora of intuitive controls allows users to adjust scratches to their hearts content.
ProScratches includes thousands of amazing scratch textures that flicker endlessly throughout each preset. This package includes a full length preset as well as ten shorter specialty ranges that fall into light, medium, or heavy categories. The range can be adjusted to control a smaller sample of scratches using an intuitive slider and the scratches can also be scaled, flipped, randomized and retimed with additional controls.
This package also provides users with a stylistic and textured framing tool. Box in sample media with this stylized vignette tool for Final Cut Pro X. This tool lets users create a mask around their footage with black borders and textured edges to enhance stylization. This tool can be scaled, positioned and rotated with on-screen controls and edited further in the inspector window.
ProScratches gives editors a bevy of stylization controls within each preset. First, navigate to the Threshold Controls section to alter colors and the intensity of the scratches using simple sliders. Then, find the Style Controls section and edit a variety of controls such as Blend Mode, Brightness, Contrast, Prism and many more with little to no effort.
Camera effects can be turned on using a simple checkbox. Once turned on, users can adjust the focus and jitter by moving around simple sliders. Adjust the base amount of camera focus and frame jittering first. Then, proceed to adjust the variance to create beautiful and dynamic camera effects with ease.
Established in 2006, Aliso Viejo, California-based Pixel Film Studios is an innovative developer of visual effects tools for the post-production and broadcast community. Their products are integrated with popular non-linear editing and compositing products from Apple FCPX. Apple, the Apple logo, Mac OS X, and Macintosh are registered trademarks of Apple Inc. in the U.S. and/or other countries. All other trademarks and trade names are the property of their respective owners.