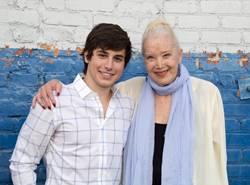 I love the direction that Ty Haisten, David Rivers and Tyrone Tann's, the producers of the film are taking. I am amazed at the talent of this 21 year old Gonzalo Martin's acting abilities; he is phenomenal, said Sally Kirkland
Los Angeles, CA (PRWEB) August 03, 2017
Production is underway for motion picture "When It Rings," an original feature film that meshes psychological thriller and drama genres. The film stars veteran actress and Golden Globe winner Sally Kirkland, and will be the film debut of international actor Gonzalo, who was cast as the lead character. Tyrone Tann of Stauros Entertainment is producing the feature film in collaboration with Trick Shot Media Group, which began filming July 23 and will be released early next year.
"When It Rings" focuses on a young man, Zach Garland, who is still haunted by his sister's death. Ten years after a tragic accident, Zach returns to his childhood home to help his family sell the house. At the home, he finds a toy phone he would use to communicate with his dead sister when he was younger. Years of counseling convinced him it was all in his head until an unexpected call comes through the toy phone, setting off a series of terrifying events, making him question what, and who, is real.
Kirkland, who won a Golden Globe for her role in "Anna," which also earned her a Best Actress Oscar nomination and an Independent Spirit Award, plays Zach's neighbor Lesley Judd in the film. Kirkland has appeared in more than 230 films, recently including "Most Hated Woman in America," currently on Netflix.
"I love the direction that Ty Haisten, David Rivers and Tyrone Tann's, the producers of the film are taking. I am amazed at the talent of this 21 year old Gonzalo Martin's acting abilities; he is phenomenal", said Kirkland. "There is a kitchen sink drama element that I love about this movie" she added.
"When It Rings" will introduce Martin in his first feature film. Born and raised in Argentina, and of Italian descent, he had planned to study aeronautical science. However, he acquired a private pilot's license at age 18 and then decided he wanted to act. He entered The New York Film Academy in Los Angeles and was booked in his first national commercial for Kellogg's, promoting "L'eggo my Eggo." Martin starred in an Apple commercial as well as the BuzzFeed webseries "Snapped". Kirkland has coached Martin for his performance in the role of Zach.
"I'm always eager to take on new and challenging characters. I think playing Zach Garland is a great role. Playing opposite of the talented Sally Kirkland is a once in a lifetime opportunity," Martin said.
Tann, an award-winning filmmaker with over 25 years' experience, has taken the helm as producer of "When It Rings." He began his career acting in numerous films and television shows. Tann gained notoriety in 1998 by breaking the Guinness World Records for producing the longest single take in a film. The film "Bug Night," was shot continuously, with no cuts for 90 minutes.
"When It Rings' is a unique project. We are blessed to have a talented cast and production team that is needed to make this a successful film," Tann said.
Ellecina Eck will join Tann as co-producer. She's an award-winning screenwriter and director for the upcoming short film "Timeless"
This will be the co-directorial feature-film debut for the talented Haisten and Rivers. Haisten and Rivers co-founded Trick Shot Media Group and began creating original content for their YouTube channel, and shot several short films. One of those shorts was "Chatter," the film that inspired "When It Rings."
Co-stars include: Mann Alfonso, Amy Ellenberger, and Sophia Monti. Mel Novak, who will appear in Greg Laurie's upcoming documentary "Steve McQueen: American Icon," also co-stars in "When It Rings."
Follow "When It Rings" on social media on Facebook, Twitter and Instagram @WhenItRings
For Media Inquiries or Interviews please contact YM & Associates PR | Marketing | Branding at YMoralesY(at)YM-PR(dot)com or call 949-244-9769.
Yvette Morales
YM & Associates
PR | Marketing | Branding
California | New York
949.244.9769
YMoralesY(at)YM-PR(dot)com
@YMTheBevHillsPR
http://www.YM-PR.com