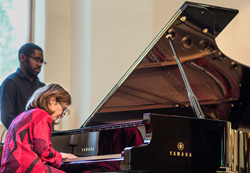 "What I love so much about the SX series pianos, is that it has such a clear sound, so playing Bach on this instrument is a joy. You practically don't have to play it, it almost plays it for you," says Anne-Marie McDermott.
Vail, Colorado (PRWEB) August 02, 2017
The Yamaha S7X premium piano makes its public debut at the Bravo! Vail Music Festival, one of the world's premiere music festivals, in Vail, Colorado, June 22 – August 4, 2017.
An instrument of rare perfection, the S7X is crafted from exquisite materials to exacting professional and artistic standards, culminating with its completion in the skilled hands of expert piano craftsmen in the Yamaha concert grand piano workshop. It is part of the SX Series, the first acoustic pianos to incorporate the Yamaha Acoustic Resonance Enhancement (A.R.E.) treatment in its piano rims, generating the warm, deep and expressive tones that many artists seek.
The S7X is being showcased at the Vail Interfaith Chapel, in performances featuring Anne-Marie McDermott, Jenny Chen and Chelsea Wang.
For seven consecutive years, Yamaha has provided pianos to the Bravo! Vail Music Festival, the summer home of the New York Philharmonic, the Philadelphia Orchestra and the Dallas Symphony, which have presented "music in the mountains" to enthusiastic audiences for nearly three decades. Beyond the S7X, the Yamaha fleet of instruments featured in this summer's event includes a CFX concert grand piano and a CFIIIS concert grand piano, as well as a GC1TA and AvantGrand N1 and N2 pianos, to be used for artist practice and rehearsal.
In 2011, Yamaha artist Anne-Marie McDermott became the third artistic director in Bravo! Vail's history, and has since been lauded for bringing a fresh perspective and a return to the festival's chamber music roots, while integrating classical favorites and new works, in an inclusive, fun and friendly atmosphere.
"What I love so much about the SX series pianos, is that it has such a clear sound, so playing Bach on this instrument is a joy. You practically don't have to play it, it almost plays it for you," says Ms. McDermott. "It also has this silky pearly sound, so when I play a Brahms intermezzo, or Chopin, you just feel like you can caress the sound out of the instrument and it responds to this huge palette of colors."
Echoing this sentiment is Steven Harlos, chair, division of Keyboard Studies, University of North Texas: "I recently had the opportunity to try the new Yamaha S7X in Vail and I was thoroughly delighted by the sound and response of the piano. It is a remarkable achievement. I look forward to spending much more time with this model. I barely scratched the surface of its capabilities."
For more information about the SX Series, please visit http://4wrd.it/SXSERIES. For more information about the Bravo! Vail Music Festival, please visit https://www.bravovail.org
About Yamaha
Yamaha Corporation of America (YCA) is one of the largest subsidiaries of Yamaha Corporation, Japan and offers a full line of award-winning musical instruments, sound reinforcement, commercial installation and home entertainment products to the U.S. market. Products include: Yamaha acoustic, digital and hybrid pianos, portable keyboards, guitars, acoustic and electronic drums, band and orchestral instruments, marching percussion products, synthesizers, professional digital and analog audio equipment, Steinberg recording products and NEXO commercial audio products, as well as AV receivers, amplifiers, MusicCast wireless multiroom audio systems, Blu-ray/CD players, earphones, headphones, home-theater-in-a-box systems, sound bars and its exclusive line of Digital Sound Projectors. YCA markets innovative, finely crafted technology and entertainment products and musical instruments targeted to the hobbyist, education, worship, music, professional audio installation and consumer markets.