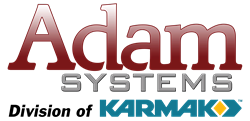 The ADAMConnect API continues to allow us to partner with industry leading solutions, like Xtime Spectrum, and work between our platforms in a transparent and secure manner that really brings value to customers - John Cowan, Director of Product Management
Spanish Fort, AL (PRWEB) August 03, 2017
ADAM Systems, a division of Karmak and provider of dealer management solutions in the automotive industry, is pleased to announce that the ADAM System DMS is fully integrated with Xtime Spectrum, the leading retention solution for the retail automotive industry.
The integration between ADAM Systems and Xtime, a Cox Automotive brand, will help dealers improve customer relationships and retention through a two-way exchange of data. This data exchange will help dealers expedite the service write-up process, which will allow more time to properly manage the service lane process and discuss additional needed services with the vehicle owner.
"For a busy shop like ours, it is critical that we schedule service appointments accurately to meet our customer's expectations," says Robert Alvine, President of Premier Kia. "The seamless integration between Xtime and ADAM DMS expedites this process and allows our service advisors more time to give customers a higher level of service."
"We are excited to expand our already extensive offering to our client base. The ADAMConnect API continues to allow us to partner with industry leading solutions, like Xtime Spectrum, and work between our platforms in a transparent and secure manner that really brings value to Fixed Ops departments and their customers," notes John Cowan, Director of Product Management for the ADAM DMS platform.
"A great service experience doubles repurchase loyalty, and robust integration is critical," said Jim Roche, SVP Marketing at Xtime. "Our goal is to help dealers build more value and convenience at every customer touch point, and we're thrilled to have ADAM as a technology partner to provide a better service to dealers and vehicle owners."
About Xtime
Xtime delivers retention solutions for the automotive retail industry. Xtime, headquartered in Silicon Valley, is the exclusive or preferred provider for 29 major global automotive manufacturers in the United States, Canada, Europe and Australia, as well as leading dealership groups, and services 8,000+ dealerships. Xtime is a Cox Automotive brand. For more information, visit Xtime.com
About ADAM Systems
ADAM Systems was founded in 1979, and specializes in dealer management solutions for automotive dealerships across North America and Puerto Rico. Acquired by Karmak, Inc. in 2016, ADAM Systems enables dealerships to manage their operations from one user-friendly portal with no long-term contracts and no proprietary equipment. ADAM Systems' Windows-based DMS is integrated with 18 major automotive OEMs, and manages the details that keep dealerships running smoothly. To learn more, visit http://www.adamdms.com.