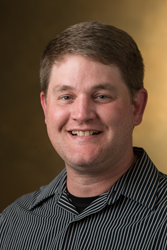 We are counting on his leadership and motivational skills to propel the ERTC as a well-recognized center not only regionally, but also nationally."
Edwardsville, Ill. (PRWEB) August 03, 2017
The Southern Illinois University Edwardsville School of Engineering has appointed Matthew Maas as director of the Environmental Resource Training Center (ERTC). Maas assumed his new duties on Tuesday, Aug. 1.
"Matt's experience in the water industry from technical know-how to planning and managing large scale operations will be an asset for the ERTC," said Cem Karacal, PhD, dean of the SIUE School of Engineering. "We are counting on his leadership and motivational skills to propel the ERTC as a well-recognized center not only regionally, but also nationally."
Maas arrives on the SIUE campus after serving as operations manager for California American Water in Sacramento, Calif., since 2015. He grew his career with more than a decade of service to Missouri American Water. He began as a lab technician in St. Louis in 2004, served as a water quality supervisor for Joplin and St. Louis from 2005-08, and became a water quality specialist in St. Louis from 2009-15.
"As an employee with Missouri American Water, I was always extremely impressed with the new hires that trained through the ERTC," Maas said. "The success of the program and the opportunity to play an integral role in the training of future water and waste water operators made the position highly attractive. The unique assets and knowledgeable staff create an excellent opportunity for growth and collaboration with parties both inside and outside of the University."
Maas earned a bachelor's in biology from Coastal Carolina University in 2001.
The SIUE School of Engineering offers one of the most comprehensive and affordable engineering programs in the St. Louis region with eight undergraduate degrees, five master's degrees and two cooperative doctoral programs, all housed in a state-of-the-art facility. Students learn from expert faculty, perform cutting-edge research, and participate in intercollegiate design competitions. Companies in the metropolitan St. Louis area provide students challenging internships and co-op opportunities, which often turn into permanent employment. All undergraduate programs are accredited by their respective accreditation agencies.