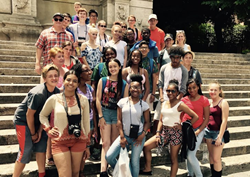 HERSHEY, Pa. (PRWEB) August 02, 2017
A group of 26 Milton Hershey School students and four staff members recently traveled to Greece and Italy for an educational 12-day international trip. The students attended a Global Leadership Summit on The Future of Food, organized by Education First.
The two-day leadership summit was centered around food's ability to connect people and shape every culture, environment, and economy. MHS students had the opportunity to hear from world-renowned speakers and attend inspiring workshops. Students examined topics such as food disparity, composting, and sustainability in agriculture. They also worked with students from across the country to create solutions to global challenges using the design thinking process, such as how to address food needs throughout the world.
"As a school, it's our role to help our students develop the growth mindset they need to successfully operate in and contribute to today's global society," said MHS Social Studies curriculum supervisor Andrew Miller. "Through our Multicultural and Global Education program, our students' gain a greater understanding and appreciation for other cultures and people, and celebrate the differences that make us all unique."
Throughout the trip, students participated in hands-on cooking classes where they learned about cultural cooking traditions, visited local markets to taste authentic cuisine, and explored popular landmarks like the Colosseum. The group also visited Athens, Rome, Milan, and Cinque Terre—a string of Italian seaside villages.
"I'm grateful for the opportunity to go on the trip to Italy. It was incredible to meet industry professionals like Anthony Bourdain [who spoke at the Summit]," said Davan Hanley, a rising MHS junior. "I'll never forget this—it was the best trip I've ever been on."
The Multicultural and Global Education program at Milton Hershey School is designed to give all high school students the opportunity to travel outside the United States. By serving others, learning about culture, and gaining worldly experiences, students build strong character and develop a deeper understanding of the systems in which they live.
Learn more about Milton Hershey School at mhskids.org.
ABOUT MILTON HERSHEY SCHOOL
Milton Hershey School® is one of the world's best private schools, offering a top-notch education and positive home life to children in pre-kindergarten through 12th grade from families of lower income at no charge.