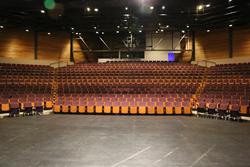 The Reif facility strives to provide endless excitement in Minnesota's north woods. Our acoustics, site lines and overall amenities are on par with any venue in the state. -Katie Benes, Reif marketing director
GRAND RAPIDS, Minn. (PRWEB) August 02, 2017
On the heels of a multi-million dollar renovation, the Reif Performing Arts Center today announced one of its most entertaining season lineups to date. The Reif released its 2017-18 season lineup, with more than 50 performances that will feature top Minnesota and regional talent, as well as notable national and international acts.
The season opens September 9 with a show produced by local musician Tim Saxhaug, featuring artists Erik Koskinen, Dead Horses & Feeding Leroy. Saxhaug has enjoyed critical national acclaim as bassist for Trampled by Turtles and has just completed an international tour with Dead Man Winter. The Reif Center's upcoming season runs through June 23, 2018, closing with the family favorite "Great Northern Radio Show."
Top musical acts to grace the Reif stage this season include the touring Broadway performance "Stomp" November 3-4, country music star Pam Tillis on March 10, and the legendary folk singer Arlo Guthrie's "The Re:Generations Tour" on May 3. Among the many other notable performances this season, the Reif will also host the Russian String Orchestra, VOLO by DIAVOLO, multiple holiday themed concerts, tribute shows featuring the music of Neil Diamond and the Carpenters, and many other top quality music performances.
For theater fans, the Reif will also host entertaining ensemble productions, including the Lionheart Youth Theatre's "Petra and the Wolf," Walnut Street Theatre's "Baskerville: A Sherlock Holmes Mystery," Theater Latte Da's "All is Calm," and "Journey to Oz" by the Experiential Theater Company and Children's Theater of Charlotte.
"The upcoming season is one of the most exciting lineups we've ever had and we anticipate great interest in the exceptional programming that makes the Reif such an incredible place for entertainment in Northern Minnesota," said Katie Benes, marketing director for the Reif Center. "The Reif facility strives to provide endless excitement in Minnesota's north woods. Our acoustics, site lines and overall amenities are on par with any venue in the state."
The Reif Center underwent a nearly $12 million renovation, which was completed last year. New seating, remodeled common areas, improved technology and many other features transformed the Reif into a top tier entertainment venue.
Tickets for the Reif's 2017-18 season go on sale August 7. Information about show times and ticket sales can be found at http://www.reifcenter.org.
About Visit Grand Rapids  
Visit Grand Rapids is the official destination marketing organization for the Grand Rapids, Minnesota, area. Visit Grand Rapids was founded in 1983 as a 501(c)(6) non-profit business association, with the objective to promote the Grand Rapids area as a destination for conferences, conventions, events, group tours and leisure travelers, thereby enhancing the economic growth of the area through travel and tourism. Visit Grand Rapids' mission is to generate a positive economic impact through travel and tourism. For more information, visit http://www.visitgrandrapids.com