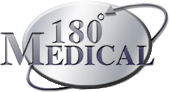 It's really an honor to be able to have this scholarship program and contribute to these students' dreams to go forward in the world and help others.
Oklahoma City, Oklahoma (PRWEB) August 03, 2017
180 Medical, one of America's leading providers of intermittent catheters and ostomy supplies, is pleased to announce this year's recipients of the annual 180 Medical College Scholarship.
When 180 Medical's founder, Todd Brown, created the scholarship program, it was his hope to be able to help young students and their families offset the costs of higher education in order to achieve their dreams despite the financial burden that their health conditions might create for them.
This program provides seven recipients with $1,000 scholarship awards each year in order to help them finance their college education. Each student chosen must be a full-time student and under a doctor's care for a spinal cord injury, spina bifida, transverse myelitis, neurogenic bladder, or an ostomy (ileostomy, urostomy, or colostomy). Those interested can learn more about the scholarship program at http://www.180medical.com/scholarships.
"Every year, we are always inspired by all of the awesome applicants and their stories," says Mark Jassey, COO of 180 Medical. "It's really an honor to be able to have this scholarship program and contribute to these students' dreams to go forward in the world and help others."
In 2017, 180 Medical received applications from hopeful students all over the United States, and as always, it was a difficult choice for the committee to begin narrowing down to the final seven recipients. This year's finalists have very different backgrounds and their career goals range from graphic designer to medical doctor, but one thing they all have in common is the desire to positively impact others' lives.
Here are this year's scholarship recipients:
Chelsea Fisk, Michigan State University
Joseph Tanner Stokes, Valdosta State University
Elizabeth Flora-Swick , University of Illinois
Grant Rustin, SE Oklahoma State University
Heidi Martin-Coleman, Capella University
Megha Kalyan, University of Virginia
Frank Damiani, Kingsborough Community College
180 Medical would like to thank everyone who applied. Every student who sent in their application were qualified and dedicated to their goals. Congratulations to the 2017 scholarship recipients, and to those who did not receive an award this year, they are encouraged to watch for the announcement for the 2018 scholarship awards and apply again in the future.
About 180 Medical:
180 Medical is one of America's fastest growing home delivery providers of intermittent catheters, ostomy products, and other related urologic disposable medical supplies. Based in Oklahoma City, the company is dedicated to meeting the supply needs of customers with diagnoses such as urinary incontinence, spinal cord injuries, spina bifida, colon cancer, Crohn's disease, and many other conditions that require catheterization and ostomy supplies. 180 Medical is a subsidiary of ConvaTec, a leading global medical products and technologies company. For more information, please visit http://www.180medical.com.