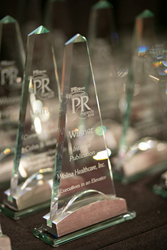 New York (PRWEB) August 03, 2017
Contact:
Jessica Placencia
Marketing Manager
PR News
jessica(at)accessintel.com
PR News Will Raise a Glass to the Top Communicators and Their Innovative Work at the Annual Platinum & Agency Elite Awards Luncheon in New York City
The awards luncheon will bring together over 400 leading communications professionals to network and celebrate as the Platinum and Agency Elite winners are announced and a new class of campaigns are inducted into the Platinum Hall of Fame.
PR News announced the finalists for the Platinum and Agency Elite Awards and will toast to their successes at an awards luncheon on September 14 at the Grand Hyatt in New York City. The finalists of the Platinum and Agency Elite Awards represent the innovative, risk-taking and strategic communicators setting the benchmark of excellence in the communications arena.
View the corporations, agencies, nonprofits and government organizations whose teams and campaigns made the finalist cut online at https://prnew.se/plat-agency2017
At the Platinum & Agency Elite Awards Luncheon, PR News will reveal the program winners and induct the ALS Association, American Greetings and MullenLowe, Bayer Corp., Home Depot Foundation, The Lustgarden Foundation and Taco Bell into the Platinum Hall of Fame for their most iconic campaigns.
The awards luncheon will kick off with an opening reception with libations and networking, and will be followed by the awards ceremony where guests will enjoy a three-course meal as winners are unveiled in over 40 categories such as PR Professional of the Year, CEO of the Year, Marketing Team of the Year and more. Ryan Serhant, TV personality from Bravo's Million Dollar Listing, will be a co-presenter.
"The Platinum and Agency Elite Awards are more than just our way of honoring the year's top teams and individual campaigns—taken together, they also celebrate the vision, ingenuity and passion of a rapidly evolving profession," says Jerry Ascierto, executive editor of PR News. "Given the overwhelming quality and quantity of submissions, our judges had an extremely difficult task this year."
The awards luncheon event is open to all professionals and individual tickets along with tables of 10 are available for purchase. Organizations can purchase a Platinum Package, which includes a table of 10 with priority seating, a half-page ad in the program guide, two bottles of champagne and an extra award for winners and honorable mentions.
For questions regarding the Platinum and Agency Elite Awards, contact Mary-Lou French atmfrench(at)accessintel.com. For awards luncheon sponsorship inquiries, contact Rich Hauptner at rhauptner(at)accessintel.com.
________________________________________
The PR News Group is a go-to source that serves the communications and marketing community at corporations, agencies and nonprofits. The PR News Group focuses on honing and growing PR and marketing professionals' skills in social media, crisis management, digital PR, measurement, employee relations, media training, CSR and writing through its flagship newsletter, webinars, conferences, awards programs, workshops and guidebooks. With the launch of its weekly newsletter over 70 years ago, PR News has remained dedicated to supporting the growth of communicators and marketers all while keeping them abreast of the latest news affecting their industries. For more information, visit http://www.prnewsonline.com.
###