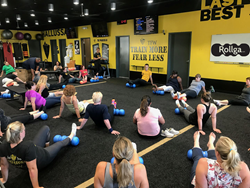 These past few weeks have been like living a dream. ~ Alicia S.
Huntington Beach, California (PRWEB) August 07, 2017
Training For Warriors raised $94,000 in an effort to give back to a fitness coach and a mother who is battling cancer. Rollga furthered the effort of the organization by hosting a Restoration of Movement Clinic at TFW DuPage on July 27th. Rollga raised an additional $1000 that evening, to which they donated 100% of the sales of Rollgas in an effort to help the organization continue to push toward $100,000.
For any family, the battle of cancer is a challenge both mentally and financially. The stress of cancer is real. This is what drove Training For Warriors Founder, Martin Rooney and his family, on a mission to find a way to give back to his fellow warrior. "Cancer has been a deep thread..." Rooney shares with passion to his organization, "Last year when I caught wind of Alicia's story, I stood on a stage and I said we were going to do something about it." Rooney went on to make a promise to the TFW Network that they would secretly host events to raise funds throughout the year without Alicia knowing. At the Training For Warriors Summit in Buffalo, NY, Rooney surprised Alicia's family with the $90,000 donation in the form of a scholarship fund set up for her four daughters.
Rollga's Co-Owner, Tim Schmidt, was among one of the 150 in the room the night of Rooney's surprise reveal. "I immediately was drawn into this story," expressed Schmidt, "I lost sleep over it. Rollga had to find a way to contribute to Alicia's family." Rollga was invited to teach a course on movement using the Rollga Foam Roller two weeks later at TFW DuPage. "These Movement Clinic's tend to draw a crowd," said Rollga's Founder Taggart Downare, "This was the perfect opportunity for Rollga to give." Rollga was able to donate an additional $1,000 that evening through the sales of the Rollga Foam Roller, a functional training self-massage roller. "These past few weeks have been like living a dream." expressed Alicia Saldivar after catching word of Rollga's donation, "Thank you for giving my girls the greatest gift..a future."
The Training For Warriors Organization has nearly raised $100,000. If you would like to contribute or learn more about Alicia's story, visit the Training For Warrior's website.
More about Training For Warriors
Training For Warriors isn't just a workout program, it is a global movement. TFW is taught by a global network of affiliated coaches and trainers that run the TFW system at licensed TFW locations. Now with over 275 affiliate locations in 30 countries, thousands of people per day are using the TFW system to bring his or her fitness to another level in order to fight this battle called life.
More About Rollga
Rollga is a cross-directional foam roller designed to stabilize the hips, align the back, and increase range-of-motion. The Rollga foam roller is ideal for muscle recovery, fascial health, and functional restoration of movement. Ordinary foam rollers cause discomfort and pain due to the unfitting design. This groovy foam roller is designed and contoured to fit your body and reach trigger points that are difficult to reach with an ordinary roller.