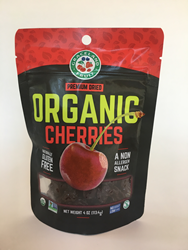 We only use the highest quality fresh fruit from farmers we know.
Frankfort Michigan (PRWEB) August 03, 2017
Graceland Fruit, located in the heart of America's largest tart cherry growing region, is bringing a new line of organic dried fruit to retail grocery stores across the country. Graceland Fruit Organic Dried Cherries and Graceland Fruit Organic Dried Cranberries feature mother nature's finest fruit, and contain no artificial colors, flavors or preservatives. At only 120-140 calories per serving and a skinny nutrition label, these flavorful super fruits are great tossed in cereal, in yogurt, in recipes, in trail mix, or as a snack right out of the bag. They are also handy for kids' lunches.
"We only use the highest quality fresh fruit from farmers we know," states Brent Bradley, vice president of sales and marketing. "It feels great to support the organic farming community, while also delivering a healthy product that retailers and consumers have been clamoring for."
Nutrition Information and Product Availability
This line of organic dried fruit is Non-GMO and contains no artificial colors, flavors, or preservatives. The products are now available at retailers nationwide.
Organic Dried Cherries MSRP $5.99 (4oz)
Organic Dried Cranberries MSRP $4.99 (4oz)

Low-Fat
Cholesterol-Free
Non-GMO
Non-Allergen
Gluten-Free
No Artificial Colors
No Artificial Flavors
No Preservatives
Packed with Flavor!
About Graceland Fruit
Based in Frankfort, Michigan, Graceland Fruit produces and markets dried fruit and other products to over fifty countries worldwide. Its customer base includes some of the largest and most prestigious commercial baking and food companies in the world. The company also markets its branded products to consumers in retail outlets and online. Early innovators of the technology used for drying tart cherries and cranberries, Graceland Fruit has twice been named Michigan Agriculture Exporter of the Year. Primary product lines include dried cranberries, cherries, blueberries and apples. For more information, visit http://www.gracelandfruit.com.