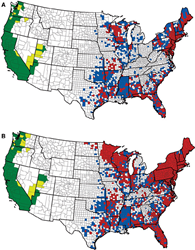 Research Triangle Park, NC (PRWEB) August 03, 2017
Global Lyme Diagnostics has announced that Dr. Mark Filidei, and Dr. Jodie Dashore have joined GLD's Scientific Advisory Board.
Dr. Filidei is an Internal Medicine physician and is the Director of Integrative/Functional Medicine for the Amen Clinics. Dr. Filidei is highly experienced in integrative/functional medicine modalities as well as conventional medicine and sees patients in person at the Amen Clinics Southern California. He was previously the medical director of the Whitaker Wellness Institute, the largest Integrative Medicine clinic in the United States where he spent over a decade treating thousands of patients for multiple complex medical issues. Dr. Filidei is an ILADS trained physician, which is the largest group of Lyme literate doctors in the world. He also has a special interest in diagnosing and treating CIRS (chronic inflammatory response syndrome) which is caused by toxic mold exposure. Dr Filidei lectures nationally on topics including the integrative approach to mental health, hormone replacement therapy, brain health, memory loss and Alzheimer's disease, and mold and Lyme disease related issues.
Dr. Filidei correctly diagnosed Kris Kristofferson with Lyme Disease, after Kristofferson was misdiagnosed numerous times, with maladies ranging from Alzheimer's to fibromyalgia. The story was covered by news organizations such as CBS and was posted on the CMT website on July 8, 2016.
Dr. Jodie A. Dashore - Dr. Dashore has been a Lyme Literate Clinical practitioner since 2010. She specializes in an Integrative, alternative and plant-based medicine approach to Tick Borne Diseases and has been helping patients with Tick borne Infections from 11 countries around the globe. Dr. Dashore has given numerous national and international lectures on an integrative approach to Tick Borne infections. She is internationally recognized as a pioneering scientist and researcher who has coined the term "Complex Autism" (TM) to include Autism complicated with Tick Borne infections and other comorbid conditions.
Global Lyme Diagnostics has developed a breakthrough diagnostic solution specific to Lyme Disease that is grounded in science. The GLD test, developed by Dr. Marconi, is designed to significantly decrease the number of patients being misdiagnosed.
Dr. Marconi's research has led to a novel breakthrough called chimeritopes which increase sensitivity by eliminating proteins that are not relevant to a Lyme infection (non-OsPC targets) and can further reduce false negatives by targeting Lyme causing bacteria variants across the North American spectrum. After licensing this technology platform and related intellectual property developed in Dr. Marconi's lab at Virginia Commonwealth University, GLD focused on creating a highly accurate and reproducible solution.
"We are very pleased to have Dr. Filidei and Dr. Dashore join our Scientific Advisory Board. Their clinical advice will be extremely valuable in furthering GLD's science to help the global Lyme community, " stated Mickey Ramchandani, CEO of Global Lyme Diagnostics. "Misdiagnosis is a core issue, as Lyme Disease can masquerade as many things - juvenile arthritis, fibromyalgia, chronic fatigue syndrome, multiple sclerosis and a host of other diseases. We are passionate about providing a diagnostic solution that decreases the misdiagnosis of Lyme Disease."
After years of research GLD has also just launched the GLD test, specific to Lyme Disease, which can be requested by clinicians at physician kit request. Patients that would like to request a kit to take to their clinicians can do so here. Note: The GLD Test is not yet available for CA, FL, or NY residents.
More information about GLD, including the science behind the new test and the Global Lyme Diagnostics team is available at the website at https://glymedx.com.
About Global Lyme Diagnostics:
GLD was formed with the sole purpose of providing a solution to the Lyme community including, physicians, clinicians, patients, advocates and families. Its initial focus is to develop and launch a test that is grounded in science and provides an answer to the challenges related to tests on the market. In addition to launching of their new test, GLD is working with the Lyme community and physicians to develop screening opportunities for worried individuals in Lyme endemic areas to help reduce long term complications. GLD is also researching methods to detect co-infections, as well as, assays that could differentiate early stage versus late stage infections for clinicians to better manage their patients.