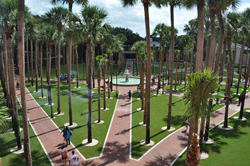 Stetson University is known as an academically rigorous institution that places a high value on global citizenship, personal growth and social responsibility
DeLand, Fla. (PRWEB) August 02, 2017
Stetson University has been recognized as one of the nation's 382 leading undergraduate institutions by The Princeton Review, an honor given to only about 15 percent of America's four-year colleges and universities. Stetson University is featured in the 2018 edition of "The Best 382 Colleges."
"Stetson University is known as an academically rigorous institution that places a high value on global citizenship, personal growth and social responsibility," said Stetson President Wendy B. Libby, Ph.D. "Stetson provides a personal learning experience for students, with access to top quality faculty focused on learning outcomes. We challenge our students to go beyond success – to become significant in their communities, nation and the world."
Published annually since 1992, "The Best 382 Colleges" contains detailed profiles of each college with excerpts from student surveys and rating scores in eight categories. Categories include Academics, Admissions Selectivity, Financial Aid, Fire Safety and Green, a measure of a school's commitment to sustainability and the environment in its policies, practices and educational programs.
"We chose Stetson University for this book because it offers outstanding academics, "said Robert Franek, Princeton Review's Editor-in-Chief and author of "The Best 382 Colleges." The Princeton Review also uses administrator surveys, college visits and an advisory board, but a lot of its information comes directly from student surveys and feedback.
In its profile of Stetson University, The Princeton Review praises it for its academics and campus life and quotes extensively from Stetson University students surveyed by the company for the book. Among student comments regarding academics: Small class sizes let personal relationships form and allows "students to be more involved on campus and to have a stronger voice in the classroom." Stetson professors "love to help you find research opportunities or write recommendations if you know them well enough," and loop students into their work on consulting projects with the Orlando business community, where they can "gain work experience, network, and broaden [their] resume." Students also describe Stetson as diverse with an "abundance of culture radiating through our campus."
The Princeton Review does not rank the colleges from 1 to 382 in any category. Instead it uses students' ratings of their schools to compile rankings of the top 20 colleges in the book in various categories. The lists in this edition are entirely based on The Princeton Review's survey of 137,000 students (358 per campus on average) attending the colleges. The Princeton Review's school profiles and ranking lists in "The Best 382 Colleges" are posted at PrincetonReview.com/best382.
The university shows up in two lists. Stetson is in the top 20 colleges for its Greek Life and is number eight in a category related to campus food called, "Is it food?"
"Fraternity and sorority life has a long history at Stetson," said Lynn Schoenberg, Dean of Students. "It has always been a great opportunity for students to engage in campus life and support the community."
"Obviously we're not happy to be in the 'Is It Food?' category," said Lua Hancock, Vice President of Campus Life and Student Success. "We listen to our students, and are in the middle of multi-million dollar redesign of the student unions which includes an overhaul of our kitchen and food service facilities to improve the dining experience. This past year, we also greatly improved our local sourcing and sustainability in our food cycle. We can't wait to open the new dining facility in 2018."
"The Best 382 Colleges" is the 26th annual edition of The Princeton Review's "Best Colleges" book. The Princeton Review also recommends Stetson University on its website feature, "2018 Best Colleges: Region by Region - Northeast / Midwest / Southeast / West," which salutes 658 schools (all U.S.-based schools in "The Best 382 Colleges," plus an additional 278 schools) as outstanding in their regions.
About Stetson University
Founded in 1883, Stetson University is the oldest private university in Central Florida, providing a transforming education in the liberal arts tradition. Stetson stresses academic excellence and community-engaged learning, and consistently earns high marks in national rankings. Stetson encourages its students to go beyond success to significance in their lives, the lives of others and their communities. Stay connected with Stetson on social media.
About The Princeton Review
The Princeton Review is a leading tutoring, test prep and college admission services company. Every year, it helps millions of college- and graduate school-bound students achieve their education and career goals through online and in person courses delivered by a network of more than 4,000 teachers and tutors, online resources, and its more than 150 print and digital books published by Penguin Random House. The Princeton Review is headquartered in New York, NY. The company is not affiliated with Princeton University. For more information, visit http://www.princetonreview.com. Follow the company on Twitter @ThePrincetonRev.