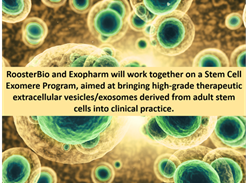 FREDERICK, MARYLAND and MELBOURNE AUSTRALIA (PRWEB) August 07, 2017
RoosterBio Inc and Exopharm Pty Ltd today announce a formal heads of agreement under which they will work together on a Stem Cell Exomere Program, aimed at bringing high-grade therapeutic extracellular vesicles/exosomes derived from adult stem cells into clinical practice.
Exosomes secreted by stem cells are a new class of therapeutic product well suited to be used in regenerative medicine ("RM") applications, but large scale stem cell manufacturing bottlenecks impede broad clinical use of these natural bioactive nanoparticles.
RoosterBio, based in Frederick, Maryland, USA, has strengths in hMSC technology-based process and product design innovation and develops commercially-viable biomanufacturing processes that support both upstream processing (USP) and downstream processing (DSP), offered as "acceleration services" to customers.
Exopharm is a Melbourne based biotechnology company specializing in its patent-applied-for LEAP isolation technology, Exomere manufacturing and clinical development and commercialization of its Exomere technology. Exomeres are a pharma-grade fraction of cell-derived bilayer lipid membrane extracellular vesicles in a size range of around 40-200nm purified using Exopharm's LEAP ligand technology.
Recent small-scale human studies have demonstrated that purified extracellular vesicles/exosomes derived from adult stem cells are safe and effective – yet there is no accepted and standardized commercial-scale manufacturing process for these submicroscopic particles.
RoosterBio and Exopharm have complementary technologies, competencies and commercial objectives – and proudly announce the establishment of their joint Stem Cell Exomere Program. RoosterBio and Exopharm will work together to develop and implement a standardized, scalable, commercially-viable biomanufacturing process utilizing Exopharm's Exomere technology in order to enable rapid clinical translation with a cGMP-compliant Exomere product into RM applications .
Achieving this objective will require the complex amalgamation of high quality cellular starting materials with best practices in cell culture and manufacturing – i.e. standardized, well-characterized hMSCs and cell culture techniques, downstream processing optimization, analytic techniques, quality systems and specialized infrastructure.
RoosterBio CEO, Margot S. Connor, said: "We have been seeing increased interest in stem cell-derived exosomes as a cell-free research material, and our cells and processes can be adapted and optimized to produce exosomes in bulk. Exopharm has ambitious plans to scale up the manufacture of clinical-grade exosomes and run clinical programs across a range of medical conditions. As an experienced hMSC technology provider, RoosterBio can help Exopharm convert its plans into reality."
Exopharm CEO, Dr Ian Dixon, said: "Our mission is to bring therapeutic exosomes into large-scale clinical trials as soon as practicable; because there are thousands of patients with medical conditions awaiting improved treatments, and we think stem cell-derived exosomes promise a new paradigm in cell-free RM. We look forward to working with RoosterBio to achieve some World-first milestones over the next few years."
The RoosterBio-Exopharm collaboration will greatly reduce the time and costs associated with bringing Exomeres into clinical trials – leading to another important step in the RM revolution.
About RoosterBio, Inc.:
RoosterBio, Inc. is a privately held stem cell tools and technology company focused on accelerating the development of a sustainable regenerative medicine industry, one customer at a time. RoosterBio's products are high volume, affordable, and well-characterized adult human mesenchymal stem/stromal cells (hMSCs) paired with highly engineered media systems. RoosterBio has simplified and standardized how stem cells are purchased, expanded, and used in development, leading to marked time and costs savings for customers. RoosterBio's innovative products are ushering in a new era of productivity and standardization into the field, accelerating the road to discovery in Regenerative Medicine. For more information on RoosterBio and adult stem cells, please visit http://www.roosterbio.com, or follow on twitter (@RoosterBio). For more information, please contact Margot S. Connor, CEO: margot(at)roosterbio(dot)com
About Exopharm Pty Ltd
Exopharm Pty Ltd is a privately held regenerative medicines company focused on bringing extracellular vesicle/exosome therapy to solve important unmet medical needs. Vesicles manufactured using Exopharm's LEAP technology are called Exomeres. Exomere therapy is a completely new class of cell-free drug. Exopharm has patented LEAP, a unique proprietary technology to isolate and purify intact exomeres in large-scale and at low cost. Exopharm's programs include pharma-grade manufacturing and preclinical testing and then clinical trials in selected indications such as tendinopathy, age-related eye disease, fibrosis, joint disease, degeneration and ageing. Exopharm is partnering with thought-leaders in the field and is building strong relationships with researchers and clinicians in selected therapeutic areas. For more information on Exopharm and Exomeres, please visit http://www.exopharm.com, follow on twitter (@Exopharm), or subscribe to our Newsletter at http://exo.ph/ExoMails. For more information, please contact Dr Ian Dixon, CEO: +613 9894 4555, ian.dixon(at)exopharm(dot)com
###