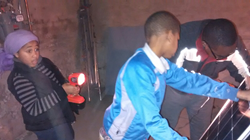 Chicago, IL (PRWEB) August 03, 2017
UL and The North American Association for Environmental Education (NAAEE) awarded five 2017 UL Innovative Education Award (ULIEA) winners with a combined $250,000 (USD) in recognition grants for furthering environmental education via STEM principles (E-STEM).
Illinois' Chicago Eco House won a third-place $25,000 recognition grant for their work involving South Side and West Side neighborhood youth in environmentally related education projects. Chicago Eco House uses sustainability to alleviate poverty in Chicago's inner city neighborhoods of Englewood, Woodlawn, and West Garfield Park. Participating youth revitalize the community through income generating flower farms and 3D printing projects. In addition, youth learn about gardening, backyard chickens, cooking, and carpentry while encouraging students to use sustainable thinking to support community development.
ULIEA honored four other organizations with recognition grants, including a $100,000 grand prize, two $50,000 prizes, and another $25,000 prize. All five winning organizations will meet at UL's headquarters in Northbrook, Ill. on Aug. 9-11 for the third ULIEA Leadership Summit to share best practices and celebrate their collective success in pushing E-STEM forward.
WATCH AS ORGANIZERS SURPRISE WINNERS HERE.
"All of our 2017 winners understand what's at stake," says Cara Gizzi, UL's Vice President of Public Safety Education and Outreach. "They're not just thinking about short-term goals. They are actively educating and preparing today's youth — tomorrow's leaders — to solve the problems of our future world. It's exciting to see students across North America receiving the tools to identify and address environmental problems with creative, STEM-based and net-positive solutions. We are so inspired and hopeful for the future."
"While the award creators expected to find leaders in E-STEM, they were thrilled to find organizations also profoundly impacting social issues," says Christiane Maertens, NAAEE's Deputy Director. "These organizations are going beyond E-STEM. They're digging deep into their communities and the world-at-large to find youth needing attention, education and direction. Many of our winners, past and present, support under-served urban, religious, indigenous, people of color, elderly and women-led populations — this is a huge goal of NAAEE. They're giving youth a broader and more complex understanding of how environmental issues, critical thinking and STEM can meet the diverse needs of their community and we couldn't be more proud."
"It is an absolute honor to win such a prestigious award," says Quilen Blackwell, president and founder of the Chicago Eco House. "We employ an innovative model that demonstrates the real world benefits of sustainability and environmentalism in the places that need it most so we feel affirmed in our approach. The Eco House is repurposing vacant land into income driven flower farms as well as turn basement spaces into 3D print shops that the youth learn to operate and manage. Our kids learn indispensable business skills while understanding the delicate interplay between the environment, economy, and society."
UL developed the ULIEA program in collaboration with the North American Association for Environmental Education in 2015. The program is open to nonprofit organizations in the U.S. and Canada who engage K-12 students in STEM and environmental education. Ultimately, UL and NAAEE aim to support organizations inspiring and preparing future engineers, conservationists, researchers, scientists and problem solvers.
Visit http://ulinnovationeducation.naaee.net for more information.
About UL
UL fosters safe living and working conditions for people everywhere through the application of science to solve safety, security and sustainability challenges. The UL Mark engenders trust enabling the safe adoption of innovative new products and technologies. Everyone at UL shares a passion to make the world a safer place. We test, inspect, audit, certify, validate, verify, advise and train and we support these efforts with software solutions for safety and sustainability. To learn more about us, visit UL.com.
About NAAEE
The North American Association for Environmental Education is a pioneering membership organization dedicated to accelerating environmental literacy through education. NAAEE supports a network of more than 16,000 educators, researchers, and organizational members working in environmental education across more than 30 countries through direct membership and 54 regional affiliate organizations. NAAEE provides resources for educators, professionals, volunteers and researchers via sponsored community networks, publications and employment development opportunities. For more information, visit http://naaee.org.
About Chicago Eco House
The Chicago Eco House uses sustainability to alleviate poverty in some of the most violent neighborhoods in Chicago. The Eco House is a home based learning space where youth are treated as neighbors and not as program participants. Youth learn about various aspects of sustainability including 3D printing, backyard chickens, urban agriculture, off grid solar, healthy cooking, etc. Youth are trained to apply these concepts in an entrepreneurial context as they grow flowers and create 3D printed jewelry for sale. The Eco House is designed to "live life" with at risk youth and demonstrate green economic opportunities to give kids an alternative to the streets.