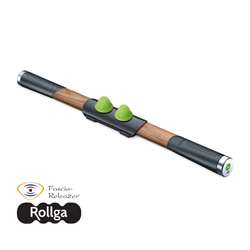 The Fascia-ReleaZer® is a perfect compliment to the Rollga Foam Roller
Saint Cloud, MN (PRWEB) August 07, 2017
Rollga, the leading manufacturer of the most advanced omnidirectional fascial foam roller on the market, is proud to announce a new addition to their product line-up, the Fascia-ReleaZer®. Effective immediately, The Fascia-ReleaZer® adds a unique dynamic to the Rollga family. A company that began with a contoured foam roller, has gained early momentum in the fascia health marketplace, and continues to find ways to help bring movement to the world.
Rollga's goal is to restore movement to individuals who have lost mobility and function. The Rollga foam roller and the Fascia-ReleaZer® are self-care tools that synergistically fit together. Each product has unique characteristics meant to aid the user in restorative movements and stretches. "The Fascia-ReleaZer® is a perfect compliment to the Rollga Roller," states Rollga co-founder Taggart Downare. "We are pleased to have the Fascia-ReleaZer® in our store, it will play a vital role in our overall ability to bring fascial health to others."
Downare was first introduced to the Fascia-ReleaZer® in 2016 at the IDEA World Convention held in Los Angeles. He was intrigued by the innovative design and function. After several months of studying the product, Downare traveled to Ulm, Germany where he attended the Connect-17 Conference. It was at this fascial conference where Downare met the inventor of the Fascia-ReleaZer®, Christopher-Marc Gordon. "I knew immediately after meeting Sir Christopher Gordon that our missions aligned and I wanted to work alongside him." finished Downare.
About Rollga 
Founded in 2015, Rollga is the only omni-directional fascial foam roller for reversing pain caused from shin splints, stabilizing your hips, aligning your back, and increasing range of motion in your joints. The Rollga foam roller is ideal for self-myofascial release, restorative movement, and muscle recovery. By providing cross-directional forces, the Rollga foam roller is designed and contoured to fit the body and reach trigger points that are difficult to reach with traditional rollers. For more information visit Rollga.com, Facebook, Instagram, or download our free Rollga app in any app store.
About the Fascia-ReleaZer®
If fascia tissue has become stuck together or hardened, you can improve its suppleness and elasticity by alternately applying pressure and tension. By using the Fascia-ReleaZer® as a self-help device, you can positively stimulate these receptors in your tissue. This will increase and speed up the regenerative capacity of the tissue. Your blood supply will also be improved and your nerves will function better. The stimulation from the Fascia-ReleaZer® allows new nutrients to reach the cells and makes it easier to transport away waste. In this way, the tissue is replaced and the elasticity and resilience of the tissue in the treated area are improved.