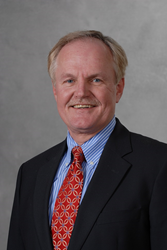 CAMDEN, NJ (PRWEB) August 02, 2017
Lourdes Health System announced today that President and CEO Alexander J. Hatala retired from the system after 31 years of leadership and service to the community. Trinity Health and the Lourdes Board of Directors named Reginald Blaber, MD, MBA, President of the system, effective today.
Hatala joined Our Lady of Lourdes Medical Center in 1986 as the executive vice president and chief operating officer. He became president and chief executive officer of Lourdes Health System in 1998 and assumed oversight for St. Francis Medical Center when it became closely affiliated with Lourdes in 2015.
Under Hatala's leadership, people and communities in southern New Jersey have benefited from Lourdes' growth from a single hospital to a multi-hospital system with an extensive physician network and numerous community-based ambulatory care centers.
Among many clinical successes, the Lourdes cardiovascular program is one of the best in the nation, recognized as one of the top 100 hospitals for cardiac care and one of the top 50 hospitals for cardiac surgery. Our Lady of Lourdes Medical Center also is the only hospital in New Jersey ever to receive the American Hospital Association's Foster McGaw award, the AHA's top national honor for a hospital's service to the community. Further, Lourdes has built one of the most robust accountable care organizations (ACO) in the region, leading the way in driving health care from volume to value.
"It has been a privilege to serve our communities with a team that dedicates their lives to our values-based mission while providing the best care possible to the people of southern New Jersey. I am proud of the accomplishments of Lourdes Health System over the past 31 years," said Hatala.
"Alex's leadership and decades-long commitment to our mission and core values have contributed to the organization's growth and reputation for high-quality care in the southern New Jersey region, and we wish him all the best," said Benjamin Carter, Executive Vice President for Trinity Health, which owns Lourdes Health System. "We are pleased that Dr. Reginald Blaber has assumed the role as president of Lourdes Health System. Dr. Blaber is an innovative leader who has driven the expansion and integration of the cardiovascular service line at Lourdes. His clinical and operational experience will serve the organization well as he assumes the new role."
About Dr. Blaber
The Lourdes Health System Board of Trustees and Trinity Health have appointed Reginald Blaber, MD, MBA, FACC, as President of Lourdes Health System. Dr. Blaber joins a growing list of U.S. physicians who have assumed the role of lead health system executive. Most recently, he served as a member of the Lourdes senior management team as Executive Director of the Lourdes Cardiovascular Institute, Vice President of Cardiovascular Services and Chairman of Medicine.
Among Dr. Blaber's achievements is the creation of the Lourdes Cardiovascular Institute where he has led more than 80 employed and affiliated cardiologists, growing the service to become the largest heart program in southern New Jersey. In addition, he has created a culture of quality and innovation manifested by multiple awards for excellence. These include national recognition for cardiovascular and/or cardiac surgery quality by leading, independent ratings organizations such as Healthgrades, Becker's and Truven Health Analytics. This also includes a front-page feature in the New York Times highlighting Lourdes' excellent "door-to-balloon" times for the rapid treatment of heart attack.
Dr. Blaber is a practicing cardiologist who has been affiliated with Our Lady of Lourdes Medical Center for over 20 years. There he participated in numerous clinical and administrative committees, including a term as president of the Medical Staff. In 2010, he was named president of Lourdes Medical Associates, and in 2011 president of Lourdes Cardiology Services. In 2016, he was appointed to the New Jersey Cardiovascular Health Advisory Panel. The same year, the Diocese of Camden honored him with the Saint Luke Award for leadership in Catholic healthcare in Southern New Jersey. He has served on the board of The Joseph Fund, the Haddonfield Ambulance Association, the Interfaith Care Givers of Haddonfield as well as the Bucknell University Alumni Association. Dr. Blaber has received numerous "Top Doc" awards from local and regional publications.
Dr. Blaber came to South Jersey by way of Walter Reed Army Medical Center, Fort Benning and Fort Meade, serving six years in the U.S. Army as an internist, achieving the rank of major. He received his medical degree from Hahnemann University School of Medicine, where he completed a fellowship in cardiovascular disease. He graduated from Bucknell University with a degree in Chemistry. He earned a MBA from Villanova University.
About Lourdes Health System
Lourdes Health System is one of southern New Jersey's leading healthcare providers, with hospitals located in Camden (Our Lady of Lourdes Medical Center) and Willingboro (Lourdes Medical Center of Burlington County), and outpatient centers and physician practices throughout Southern New Jersey. Lourdes Health System is recognized nationally for excellence in clinical care and service to the community, offering a full range of medical, surgical, obstetrical, behavioral health, rehabilitation and long-term acute care services. LHS Health Network, an Accountable Care Organization (ACO) formed to provide coordinated, comprehensive care across physician practices, hospitals and other healthcare providers, was created in 2013. The health system was founded by the Franciscan Sisters of Allegany, N.Y., and is a member of Trinity Health, with hospitals in 22 states. For more information, visit http://www.lourdesnet.org