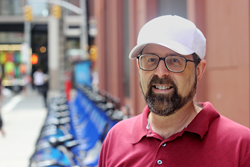 I look forward to deepening my collaboration with what may be the world's most comprehensive program supporting individuals with autism and related conditions
Lee, MA (PRWEB) August 09, 2017
Internationally renowned autism expert, author and advocate Dr. Stephen Shore has been tapped to serve as a senior advisor to the national leadership team at the College Internship Program (CIP). He joins CIP in August as a consultant at their national headquarters in Pittsfield, Massachusetts.
"Dr. Shore has been an active CIP board member for many years, and we are excited to have someone with his unique background and depth of experience join our leadership team," commented Dan McManmon, President of CIP. "Stephen's insight as an individual with autism who has found his own success in life connects deeply with our mission," McManmon continued. "Dr. Shore has unparalleled insight and expertise in the field of working with transition age students with autism, ADHD, and learning differences."
Dr. Shore will provide expertise regarding the implementation of new services and enhancements for CIP's core curriculum. CIP serves transition age students age 18-26 with autism and other learning difference at five locations across the US.
"After watching and working with CIP for almost 2 decades, I look forward to deepening my collaboration with what may be the world's most comprehensive program in supporting individuals with autism and related conditions for successful transition into higher education and employment." stated Shore.
Diagnosed with "strong autistic tendencies" and "too sick" for outpatient treatment, Dr. Shore was recommended for institutionalization. Nonverbal until four, and after much support from his parents and others, Stephen now is an accomplished author, presents at conferences around the world, and is a faculty member at Adelphi University where his research focuses on matching best practice to the needs of people with autism.
Shore speaks regularly at conferences around the world, and is renowned for his consultations and writings on lifespan issues that are pertinent to education, relationships, employment, advocacy, and disclosure for people with autism. He is the author of many books including Beyond the Wall: Personal Experiences with Autism and Asperger Syndrome, and College for Students with Disabilities.
Throughout his impressive career, Shore has been recognized as a leader in the field of autism. In addition to serving on the CIP board, Dr. Shore is a current board member of Autism Speaks, president emeritus of the Asperger's Association of New England, and advisory board member of the Autism Society. Dr. Shore serves on the boards of the Asperger Syndrome and High Functioning Autism Association, The US Autism and Asperger Association, the Scientific Counsel of OAR, and other autism related organizations.
The CDC estimates that 1 in 68 people in the US are diagnosed with autism. Each year 50,000 students with autism graduate from high school. Many of these teens and young adults need comprehensive support in order to achieve positive outcomes.
About CIP
Established in 1984, CIP (also known as the College Internship Program), provides summer and year-round transition programs for teens and young adults with autism, Asperger's, High Functioning Autism, ADHD and other learning differences. The program helps young adults find success in college, the workplace, and with independent living. For more information about CIP's programs, visit http://www.cipworldwide.org or call 877-566-9247.