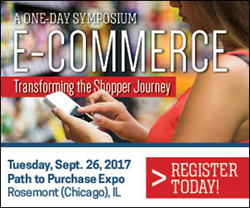 (PRWEB) August 04, 2017
Registration is open for the Path to Purchase Institute's one-day symposium, E-Commerce: Transforming the Shopper Journey, taking place Sept. 26, 8:00 a.m.- 4:30 p.m. in Chicago. The one-day workshop features nine expert presentations focused on mastering innovations like same-day delivery and click-and-collect while still providing a seamless shopper experience. Topics include educating the organization on e-commerce, launching new products and driving trial, what to do with structured data, how online activity impacts in-store behavior, the digital impulse buy, and much more.
The speaking roster includes 15 experts from Catapult Marketing, Clavis Insight, The Coca-Cola Co., FreshDirect, General Mills, GSK, Instacart, IRI, ItemMaster, Mondelez International, Planet Retail RNG, Slice Intelligence, SmartCommerce and Wrigley Co.
E-Commerce: Transforming the Shopper Journey is co-located with the 2017 Path to Purchase Expo (P2PX), taking place Sept. 26-28 at the Donald E. Stephens Convention Center. P2PX, the world's largest gathering of retail and shopper marketing professionals, attracts thousands of brand manufacturers, retailers, agency professionals and solution providers who rely on P2PX for community engagement, education and inspiration centered around driving shopper engagement and retail sales.
Registration for the E-Commerce Symposium also grants complimentary access to the P2PX exhibit hall and to Sept. 27 and 28 keynote addresses from Pinterest, CVS Health and WSL Strategic Retail.
Learn more and register at: https://p2pi.org/ecommsymposium
About the Path to Purchase Expo
The Path to Purchase Expo is a highly concentrated, solution-driven conference and trade show designed to empower those who execute marketing and sales strategy along the path to purchase. Learn more at path2purchaseexpo.com.
About the Path to Purchase Institute
The Path to Purchase Institute is a global association serving the needs of retailers, brands and the entire ecosystem of solution providers along the path to purchase. It is the most trusted and reliable source for connecting thought leaders and facilitating the sharing of industry initiatives.
###