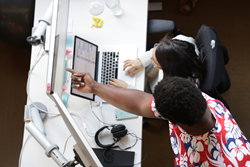 Building desirable, viable and scalable digital experiences requires a unique combination of capabilities – something that is at the core of Dialexa's end-to-end design and engineering offerings
Dallas, TX (PRWEB) August 03, 2017
Technology Research, Design, & Creation Firm, Dialexa, has been ranked as a leading Digital Experience Service Provider in Forrester's July 2017 Vendor Landscape Report.
Forrester selected Dialexa from hundreds of digital agencies, consultancies, and technology implementers that design, build, and manage digital customer experiences. In fact, Dialexa is one of just 57 that Forrester included in its landscape report of leading digital experience (DX) service providers, listing Dialexa alongside more traditional providers such as Deloitte Interactive, Accenture and IBM.
Known for its winning combination of innovative people, creative thinking, exceptional design, and sophisticated engineering - Dialexa delivers quality products that users love, and drives impactful results that their client's businesses demands.
"Forrester's analysis found that the best digital experience service firms have expertise in five areas: customer experience strategy, experience design, data and analytics, digital experience technology, and program management and global operations services," said Scott Harper, Dialexa's co-founder and CEO. "Building desirable, viable and scalable digital experiences requires a unique combination of capabilities – something that is at the core of Dialexa's end-to-end design and engineering offerings. We are excited about helping our clients leverage digital to build differentiation and become great technology companies, and are honored to be recognized amongst some great peers."
Already in 2017, Forrester has included Dialexa in a number of research reports on platform engineering, digital transformation and driving innovation. This included featuring Dialexa's platform and IoT work for parking technology company ParkHub in their July 2017 Customer Experience report The CX Fusion Imperative: Human, Digital, Physical, And Virtual Realms, and how Dialexa is Applying Artificial Intelligence And Robotics To The Customer Journey.
About Dialexa
Dialexa is The Technology Research, Design, & Creation Firm that partners with our clients to deliver custom technology solutions and strategies to differentiate your business and give you a competitive advantage.
If you're ready to start thinking what your business could look like tomorrow, contact us today and see how the Dialexa team can help.