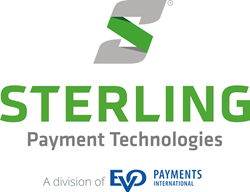 EMV payment solutions can be difficult to install, hard to support, and expensive for merchants. SmartECR solves these issues within a single device
TAMPA, FLA. (PRWEB) August 07, 2017
Sterling Payment Technologies, a leading provider of secure payment processing, today launched its SmartECR®, an EMV-enabled device that allows SAM4s cash registers to accept EMV chip cards and digital wallets such as Apple Pay®. As an all-in-one payment solution, SmartECR also includes comprehensive online sales reporting and price management software, as well as a wireless payment option.
"We've learned that EMV payment solutions can be difficult to install, hard to support, and expensive for merchants. SmartECR solves these issues within a single device," said Jim Raftice, President U.S. and Canada, EVO Payments International, parent company of Sterling Technologies.
EMV is smart chip technology that stands for Europay/MasterCard/Visa. The standard was adopted in the U.S. on October 1, 2015, when in-store fraud liability shifted from financial institutions that have invested in chip technology to merchants who have not upgraded to EMV. For merchants, using the proper EMV technology protects their businesses and customers from fraud.
"Cash registers are still the most viable POS option for hundreds of thousands of merchants, and transaction speed is critical to the customer experience," Raftice said. "The faster the transaction, the greater the chance for revenue generation at busy merchant locations. SmartECR is truly one of the most affordable, dependable, and fastest payment terminals on the market."
In addition to being EMV-enabled, SmartECR's features include:

Simple installation with Sterling's proprietary plug-and-play app
Bridge Business Intelligence® software, which provides real-time and historical sales reports, and the ability to change pricing from any internet-connected device
Transaction speeds as fast as 2.75 seconds
Wireless payments that install in any environment or hard-to-wire location
Reduced costs associated with chargebacks and fraudulent transactions
To learn more, contact Sterling Payment Technologies at (800) 383-0561, visit http://www.sterlingpayment.com, or follow us on LinkedIn and Twitter.
About Sterling Payment Technologies:
Sterling Payment Technologies, a division of EVO Payments International, is one of the most innovative, customer-focused payment processors in the industry. Founded in 2001, the company processes payment transactions for all major card brands including Visa®, MasterCard®, Discover® and American Express®. Sterling is committed to providing POS resellers, software application developers, and merchants with the most advanced payment solutions in the marketplace, including a complete range of electronic payment processing services, such as credit, debit, PIN debit, EMV, fleet, gift card, and electronic benefits transfer (EBT). The company has been recognized by Business Solutions Magazine as Best Channel Vendor for nine consecutive years, ranking Sterling's payment processing among the nation's best. Headquartered in Tampa, Florida, Sterling is represented in communities throughout North America, Central America and Europe by point-of-sale equipment dealers and software developers, independent sales offices, banks, and an internal sales team.
Contact:
Anton Wurr, Executive Director of Marketing
Sterling Payment Technologies
800-383-0561
anton(dot)wurr(at)sterlingpayment(dot)com