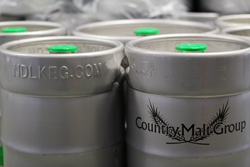 Detroit, Michigan & Champlain, New York (PRWEB) August 04, 2017
NDL Keg, a leading global supplier of stainless steel kegs and casks, today announced a new strategic North American partnership with Country Malt Group. The partnership combines NDL's keg expertise and supply of high-quality containers with Country Malt Group's strong relationships with North American brewers and industry-leading distribution and sales network.
NDL's standard U.S. kegs and casks will now be available through Country Malt Group's sales network and stocked in five U.S. warehouses — Champlain, New York; Chicago, Illinois; Dallas, Texas; Oakland, California; Vancouver, Washington — and will be available very soon in two Canadian locations. Stainless steel kegs and casks are the latest addition to Country Malt Group's wide array of brewing ingredients and equipment, that includes malts/grains, hops, yeast, cooperage and more.
NDL Keg's Managing Partner, Steven Syzdek, commented, "We believe this partnership will be mutually beneficial as our company continues to grow with the exciting craft beer market. We're very honored to be welcomed into Country Malt Group's great family of brands, and we're looking forward to reaching more breweries and better serving the North American market."
When asked about the new NDL and Country Malt Group partnership, President of Country Malt Group, Bryan Bechard stated, "We're excited about the inclusion of NDL products within our portfolio, and the opportunity it presents to our customers. The brand has an excellent reputation and supports our one-stop shop initiatives."
By partnering with NDL Keg, CMG is equipped to meet the growing demand from North American breweries for competitively priced kegs and casks. In addition to stocking standard U.S. kegs, CMG will have access to NDL Keg's complete product line, including casks, stainless steel growlers, DIN kegs, EURO kegs and custom containers.
About NDL Keg:
Headquartered in the U.S. in Detroit, Michigan, NDL Keg is a leading global supplier of stainless steel brewing containers. NDL has been distributing high-quality, stainless steel kegs, casks and growlers to craft, regional and major breweries in North America since 2010. More information on NDL can be found at http://www.ndlkeg.com.
About Country Malt Group:
A division of GrainCorp, Country Malt Group has grown to be one of the leading providers of quality ingredients and supplies to the Craft Beer Industry. Spanning the United States and Canada, CMG has eleven distribution centers located strategically across North America. More information on Country Malt Group can be found at http://www.countrymaltgroup.com.