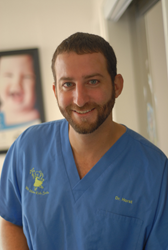 The advanced technology offered by uBiome may enable us to detect harmful oral bacteria before they endanger the lives of these children - with just a bit saliva.
San Francisco, CA (PRWEB) August 08, 2017
uBiome, the leader in microbial genomics, has issued its latest Microbiome Impact Grant award to pediatric dentist and scientist Dr. Jeremy Horst of UCSF School of Medicine, who, along with colleagues in the UCSF Children's Oral Health Research Center, is carrying out research into the use of the oral microbiome as a non-invasive way of predicting and preventing blood infections in immunocompromised young bone marrow transplant patients.
Bone marrow transplants are used in order to replace damaged or diseased cells with non-cancerous stem cells that can, in turn, grow new, healthy cells. These transplants tend to be used when treatments for cancer have destroyed the bone marrow's normal stem cells. Bone marrow, which is found at the core of bones, is where the body manufactures blood cells.
Bone marrow transplants can be either allogeneic or autologous. Allogeneic transplants occur when bone marrow is received from a donor. In autologous transplants, the patient's own bone marrow is used, after being collected, frozen, and stored until it is needed – following chemotherapy, for example.
Blood infections pose a considerable risk during bone marrow transplants, so being able to predict and prevent them is critical. Dr. Horst's study aims to explore the use of the oral microbiome as a predictive diagnostic for blood infections in pediatric patients who are immunocompromised, a common phenomenon during transplant procedures. Having a weakened immune system, technically known as immunodeficiency, is a state in which the immune system's ability to fight infectious disease and cancer is either compromised or entirely absent.
The potential to use the oral microbiome as a marker for the blood microbiome would offer considerable benefits, particularly because of its non-invasive nature.
Dr. Horst is a Postdoctoral Scholar in the Biochemistry and Biophysics Department at UCSF School of Medicine, specializing in Biochemistry and Infectious Diseases. He received his PhD for studies in Oral and Computational Biology at the University of Washington, after also first gaining his DDS there. This was followed by a residency in Pediatric Dentistry at UCSF. Dr. Horst began his academic studies at UCSD, where he was awarded his BS in Pharmacological Chemistry, a BA in Psychology, and a master's in Chemistry. He has contributed to 40 scientific papers.
The microbiome is the collective term for the ecosystem of trillions of microorganisms that live in and on the human body. Many play important parts in supporting life. For example, gut bacteria aid digestion and enable the synthesis of vitamins. Pathogenic bacteria, however, can be associated with a range of conditions. uBiome employs precision sequencing™ technology to generate detailed analyses of the human microbiome.
Dr. Jeremy Horst says: "To prepare young patients for bone marrow transplant, their immune systems are temporarily wiped out. Despite our extraordinarily cautious efforts, one third of these children at UCSF Benioff Children's Hospital get blood infections, and oddly enough, one third of the infections come from bacteria in the dental plaque. We use traditional culture-based diagnostics to understand these infections once they happen, but the advanced technology offered by uBiome may enable us to detect harmful oral bacteria before they endanger the lives of these children - with just a bit saliva."
Dr. Zachary Apte, co-founder and CTO of uBiome, adds: "After collaborating with him in the past, we're familiar with Dr. Horst's work. We think his novel proposal to predict and prevent blood infections in young patients with weakened immune systems using something as simple as a saliva test is very exciting."
Founded in 2012, uBiome is the world's leading microbial genomics company. uBiome is funded by Y Combinator, Andreessen Horowitz, 8VC, and other leading investors.
uBiome's mission is to explore important research questions about the microbiome and to develop accurate and reliable clinical tests based on the microbiome.
Contact:
Julie Taylor
julie(at)ubiome(dot)com
Ph: +1 (415) 212-9214