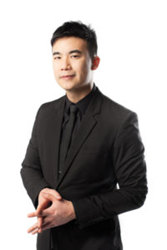 Boise, ID (PRWEB) August 03, 2017
AppDetex is pleased to present the upcoming three-part live webinar "The Slants, A Conversation with Simon Tam," featuring Simon Tam, an Asian American author, activist, marketer and front man for the band The Slants. Join live as Tam sits down with Michael Krause of AppDetex to discuss in depth his personal struggles to get the case in front of the US Supreme Court and how the landmark case is reshaping trademark law. Part one of the three-part series will be presented on August 8, 2017, at 12:00 MDT.
In a ruling that could have a broad and lasting impact on how the First Amendment is applied in future trademark cases, the US Supreme Court granted members of the Asian-American rock band the right to a federal registration on the word 'Slants.'
The name was originally rejected by the U.S. Patent and Trademark Office (USPTO). Tam fought the decision, stating that members of the band sought to reclaim the word which is often viewed as a racial slur. Tam's fight on behalf of The Slants took him all the way to the Supreme Court where they obtained a favorable decision.
The presentation will include a live conversation with Tam as he discusses the journey to the US Supreme Court and his struggles on his way to a win.
Part 1 of the three-part webinar will be hosted by AppDetex on August 8, 2017, at 12:00 MDT. Register for the live webinar now.
For more information about any of AppDetex's services or brand protection solutions, click here.
About AppDetex
Founded in 2012, AppDetex is the global brand protection leader in combatting brand infringement, fraud, and piracy within the increasingly complex worlds of mobile apps, marketplaces, and domains.
Through industry leading innovations in detection and enforcement, AppDetex helps some of the world's most recognizable brands reduce consumer confusion, brand dilution, and fraud while protecting reputations, credibility, and company bottom line.