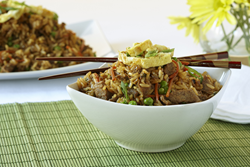 It's Dream Dinners' goal to make that transition period easier by making dinnertime possible, so families can make quality time with each other a priority even as they adjust to a brand new school year
Snohomish, Washington (PRWEB) August 03, 2017
Summer is nearing its end, and the kids will be back to school in no time. While your time with your kids during the summer can be a source of great excitement and fun, the stress of preparing for the back-to-school season can be overwhelming if you're not prepared to tackle the challenges of the new school year.
The originator of the meal assembly industry, Dream Dinners is dedicated to helping busy families spend more time together around the dinner table by allowing them to prepare wholesome home-cooked meals without the stress of shopping, chopping and prepping. As the busy back-to-school season approaches, Dream Dinners is sharing some easy tips for staying organized and adjusting to the new school year to help families make the most of time spent together and lessen the stress of planning and prep:
1. Ensure the kids are ready for a fresh start this school year by clearing out last year's clutter from desks, study areas, and backpacks. Be sure to sanitize your child's lunchbox and stock up on Ziploc bags, Tupperware containers, pencil cases, binders, and other school year organizational necessities.
2. Create a space for the kids to keep themselves organized. A simple area with hooks, cubbies, and shoe racks allows your child to form a routine before and after school, and helps prevent scrambling to find backpacks and homework at the last minute.
3. Encourage a positive attitude about the new school year by talking to your child about meeting new teachers, seeing friends, favorite subjects, and new afterschool activities.
4. Get into a school routine at least two weeks before the first day back. Help the kids establish a homework routine during the summer by setting aside time each afternoon for reading, working on an activity book, or another brain-sharpening activity.
5. Create a DIY homework station. Store at-home supplies like pencils, rulers, and calculators, and add a whiteboard so your child can keep track of assignments and deadlines.
6. Make it easy for kids to pack their own lunches. Buy snacks in bulk, pre-package items like veggies, fruit, and crackers, and set aside space in the fridge or pantry so that your child can grab them and go in the morning.
7. Choose a day of the week to serve as your meal prep time. Or, visit your local Dream Dinners store and let Dream Dinners do the shopping, chopping and prep work for you. Customers can assemble a month's worth of weeknight meals in just one hour.
8. Set aside time on Sundays to review the full family schedule for the upcoming week. Use a whiteboard or oversized calendar to jot down important events, extracurricular activities, and play dates. Plus, add in your Dream Dinners thaw schedule to make dinnertime easy and stress-free.
"We want to spend as much quality time with our children as we can during the summer, and so the back-to-school season often sneaks up on us as parents and throws the family routine into chaos," said Stephanie Allen, Co-Founder and President of Dream Dinners. "It's Dream Dinners' goal to make that transition period easier by making dinnertime possible, so families can make quality time with each other a priority even as they adjust to a brand new school year."
No matter how busy the back-to-school season becomes, great things happen when families make the effort to gather around the dinner table, spending more time together creating memories and less time stressing about planning and preparation.
For more information about Dream Dinners, or to check out some of the current menu offerings, visit https://dreamdinners.com/.