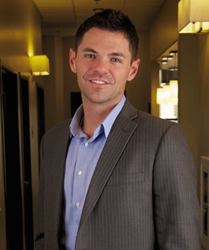 Las Vegas, NV (PRWEB) August 02, 2017
Dr. Curry Leavitt, a leading periodontist with Red Rocks Periodontics and Implantology, is excited to expand his practice to accept new patients without a referral who need to replace their missing teeth with dental implants in Las Vegas, NV. Dr. Leavitt helps patients attain a full-arch tooth replacement using the All-on-4® system, which has significant benefits over traditional dentures alone. Using the system, patients can regain their smiles and restore complete oral function.
The All-on-4 technique uses four or more dental implants as the support for a custom denture prosthetic. These implant posts are placed directly into the jaw bone by Dr. Leavitt, stimulating bone growth essential to proper oral health. Differing from traditional dentures, implant supported dentures offer the strength and permanence of dental implants while avoiding the hassle of ill-fitting dentures. Those with low bone density may qualify for this treatment, even if they could not qualify for a full set of dental implants. Together, the implants and dentures create a system that is both stronger and more adept at providing patients with the results they need, without many of the common drawbacks of dentures alone.
Using the GALILEOS® Cone Beam CT imaging system, Dr. Leavitt offers precise, computer-guided dental implant placement at his practice, Red Rocks Periodontics. This modern CBCT imaging system allows him to place each implant with a very high level of accuracy, which increases the implant's chance of long-term success.
There is a reliable treatment for tooth loss. Patients with missing teeth who would like to learn more about receiving dental implants in Las Vegas, NV, can contact Dr. Leavitt's office at 702-834-8900 to schedule an appointment or visit Red Rocks Periodontics' website at http://www.redrockperio.com.
About the Doctor
Red Rocks Periodontics and Implantology is a leading periodontal practice serving patients personalized care in the Las Vegas, NV area. Dr. Curry Leavitt is a highly trained periodontist who focuses on the art and science of state-of-the-art periodontics. Dr. Leavitt and his team are devoted to progress, cutting-edge procedures and the latest dental technology to ensure patients receive minimally invasive and effective care. Offering a variety of services, the Red Rock Periodontics and Implantology team provides laser gum surgery treatment, same-day dental implant placement and calming sedation dentistry. To learn more about Dr. Leavitt, his practice or the services he offers, visit http://www.redrockperio.com or call 702-834-8900 to schedule a custom consultation.