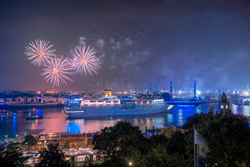 Los Angeles / Hamburg (PRWEB) August 08, 2017
Hamburg's love for anything cruise and maritime events will once again culminate in the 6th Hamburg Cruise Days, September 8-10, 2017, when the city's port will set the stage for both the cruise industry and cruise fans. With a record number of eleven participating cruise liners, the Hamburg Cruise Days is the biggest public cruise festival worldwide. On shore and off, spectators can partake in a diverse program that includes a parade of cruise liners, fireworks, harbor illuminations, culinary experiences, special promotions, ship presentations, music, and harbor cruises.
The ships
Nine magnificent cruise liners and two river cruise ships will visit the port during the Hamburg Cruise Days: AIDAprima (AIDA Cruises), Silver Wind (Silversea Cruises), Norwegian Jade (Norwegian Cruise Line), EUROPA and EUROPA 2 (both Hapag-Lloyd Cruises), MSC Preziosa (MSC Cruises), Mein Schiff 3 (TUI Cruises), Albatros and Amadea (both Phoenix Reisen), Sans Souci (Plantours Cruises) and Katharina von Bora (nicko cruises).
Highlights on the water
The one-mile long Grand Parade of cruise ships on Saturday evening, September 9 is the highlight of the Cruise Days. Led by the AIDAprima, the parade of six cruise liners and 24 escort ships will sail down the Elbe River against the backdrop of magnificent fireworks displays. The ships total 502,946 gross registered tons and will carry 17,140 passengers, that can take in the spectacle and city skyline from the water.
Other highlights include the Silversea Cruises fireworks on Friday, as well as the Hamburg Cruise Night, during which passenger ships will offer evening cruises on the Elbe river.
Magical backdrop: Blue Port Hamburg
From September 1 Hamburg's harbor will be illuminated as part of the BLUE PORT HAMBURG installation, when light artist Michael Batz again creates a magical visual experience by immersing over one hundred objects and buildings into a dreamlike blue light.
Michael Otremba, managing director of the Hamburg Convention Bureau GmbH and Hamburg Tourismus GmbH, comments: "The world of cruising touches peoples' hearts and is part of our city's identity and history. With the Hamburg Cruise Days we are creating an emotional experience by bringing together ships and people. Along with the city's new landmark, the Elbphilharmonie, pictures from the port bathed in blue light will go around the world."
The world of cruises on land
On land, visitors can experience a diverse program on 15 themed waterfront "islands," where participating cruise lines present themselves and invite the public to join them for special events and experiences. Other "islands" will focus on Arts & Culture and Health & Fitness, and a nostalgic maritime market; all complemented by a program of music, shows, poetry slams and more presented on several stages.
Cruise City Hamburg
Every year Hamburg celebrates several large-scale cruise- and maritime events, ranging from the legendary Harbor Birthday in May to the Cruise Days and Elbe Festival in September, to ship naming ceremonies and first call parties. Events are synchronized and invite both the general public and industry experts to join. Just prior to the Hamburg Cruise Days, Seatrade Europe – the leading cruise industry fair in Europe (Sept. 6-8) is taking place in the city, as well as the travel sales event fvw Cruise Live (Sept 8) and two events (Sept 5 and 6) organized by CLIA, the world's largest cruise association.
Locals love to welcome cruise ships and are deeply (and historically) connected to seafaring. Hamburg is also one of the few harbors where passengers can walk from their ship to downtown.
In 2016, a record number of 171 ships called on the Hamburg port, carrying over 710,000 passengers. During the 2017 season, Cruise Gate Hamburg is expecting around 200 ships with approximately 800,000 passengers.
More Passengers and Cruise Liners from the USA.
There is a strong Cunard connection between Hamburg and New York, as well as a nonstop flight from Newark (United). Hamburg offers many pre/post opportunities for Americans and is also a hub for NCL's Northern European itineraries.
All in all, eight American Cruise Lines are calling port in Hamburg in 2017: Holland America Line with 1 ship (2 calls), Princess Cruises with 2 ships (2 calls), Oceania Cruises with 1 ship (2 calls), Norwegian Cruise Line with 1 ship (7 calls), Silversea Cruise with two ships (2 calls incl. Cruise Days), Azamara Club Cruises with 1 ship (1 call), Royal Caribbean International with 1 ship (1 call) and Cunard Line (British with many American guests) with 2 ships (7 calls, including Cruise Days).
In the first six months of 2017, a total of 8,698 American cruise passengers started, disembarked or transferred through Hamburg.
Further details and the events calendar are available at http://www.hamburgcruisedays.com.
http://www.facebook.com/HamburgCruiseDays
Twitter: @CruiseDays2017
Instagram.com/hamburgcruisedays
Images are available upon request.