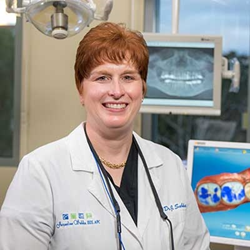 Thousand Oaks, CA (PRWEB) August 03, 2017
Dr. Jacqueline Subka, a general dentist focused on providing personalized care, is pleased to announce that she is now welcoming new patients with receding gums in Thousand Oaks, CA, without a referral. Dr. Subka understands that leaving gum recession untreated can lead to sensitive teeth, gum disease and possibly tooth loss. This is why she offers a convenient and comfortable solution, the Chao Pinhole® Surgical Technique, to quickly restore the gum line and treat receding gums.
Gum recession can be caused by genetics, aggressive tooth brushing and improper oral hygiene. Many patients may suffer with the condition for a while before they understand what their symptoms mean. Symptoms usually include a longer look to the teeth and more sensitive teeth. Without treatment, significant tooth decay and gum disease may set in and lead to tooth loss. This is why receiving timely treatment is so important.
The Chao Pinhole Surgical Technique is a convenient and effective solution to receding gums in Thousand Oaks, CA. Unlike traditional gum grafting, this treatment is minimally invasive, has a significantly reduced recovery time and does not involve the use of incisions or sutures. Multiple sites can be treated in a single appointment, and patients can walk out of Dr. Subka's office with immediate results. The procedure is simple and easy and involves gently moving the gums back into their original position, covering the roots of the teeth.
Patients showing signs of receding gums in Thousand Oaks, CA, are invited to contact Dr. Subka's office to learn more about the minimally invasive treatment she offers. Visit http://www.subkadds.com or call 805-373-1919 to schedule a personalized appointment.
About the Doctor
Dr. Jacqueline Subka is a general dentist offering personalized dental care for patients in Thousand Oaks, CA since 1999. Dr. Subka received her dental degree from the prestigious University of Southern California School of Dentistry in Los Angeles. Dr. Subka practices gentle dentistry and incorporates state-of-the-art techniques to provide leading, minimally invasive care. She and her team are committed to continuing education and strive to provide high-quality, personalized dental care to each patient. To learn more about Dr. Subka and the dental services she provides, visit her website at http://www.subkadds.com or call 805-373-1919.