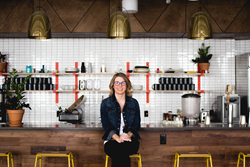 "We strongly believe in two things: empowering through education, and working with inspirational companies for the greater good." -Cassie Boca, founder of karma digital
Chicago, Illinois (PRWEB) August 09, 2017
The marketing gurus at karma digital offer a novel approach to SEO practices, and the company's innovative ideas don't stop there. Since its inception, karma digital has partnered with Qhubeka – a charitable organization that gives bicycles to Africa's rural population in order to provide transportation to educational and employment opportunities that would otherwise be out of reach.
While karma digital proves its commitment to social welfare through the Qhubeka partnership, the company also seeks to work with other inspirational companies who are interested in targeting conscious consumers.
Cassie Boca, Founder and CEO of karma digital, spoke about the company's mission, "I realized there is a unique opportunity to help, who I call, conscious consumers find companies they can get behind. As a consumer, I spend so much time finding companies that I really believe in their mission and vision because they often aren't the ones with the shiny marketing and big budgets. As a marketer, I want to help those companies build the visibility they deserve. It feels like a win-win for me because I help conscious consumers find these awesome companies, but I also help inspiring companies get noticed."
Throughout the world, brands are realizing that making an effort to give back not only helps their bottom line in the long run, but also lures a certain type of customer – a loyal one. These conscious consumers, at a minimum, almost always choose the option that provides a bigger ethical payout, and many seek out the opportunity to purchase from these inspirational companies.
Boca highlighted her desire to support such brands, "I was standing in a local store a couple of years ago, and it hit me how important it is for me personally to wear, consume, and purchase from people and companies I believe in. I don't wear logos when I don't support the company, and on this visit, in particular, I didn't purchase a really cute pair of shoes because I had strong opinions on the brand."
Recently, karma digital hosted a free training for REACH, a nonprofit dedicated to supporting and improving the lives of children suffering from Hirschsprung Disease. Cassie noticed the palpable eagerness exhibited at the session, "The enthusiasm on our team and theirs was incredible. You could feel the passion from each one of us; from REACH helping kids and families, and from us helping this great non-profit stand out in search results."
As karma digital continues to grow, the company's core values remain the same – a profitable business can create abundance while making a remarkable difference on the world. Boca noted, "We strongly believe in two things: empowering through education, and working with inspirational companies for the greater good."
About karma digital
karma digital breaks tradition from what has become standard SEO agency behavior. Instead of doing SEO for companies, karma digital teaches SEO while partnering with companies to create an SEO strategy. Breaking away from traditional SEO agencies, consultants, and DIY tools, karma digital is your SEO team for hire. The breakthrough model helps to make inspirational companies self-reliant, able to engrain SEO into all of the content they are creating without breaking their budget, and delivers better results than the traditional models. Indicative of their name, karma digital not only does their best for their clients, but the company makes efforts to change the world. They've made the commitment to give $100,000 to Qhubeka, a non-profit in Africa that provides bikes to school children to make their commitment to education not only possible, but successful.
###