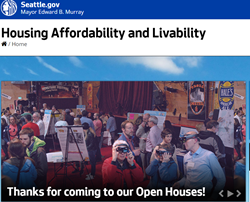 City workers describe project as "...a big win for us"
Seattle, WA (PRWEB) August 03, 2017
The City of Seattle Department of Neighborhoods recently showed off proposals to the community in a groundbreaking way using Microsoft HoloLens. The 3D visualizations of the proposals were featured during five open house events for the Housing Affordability and Livability (HALA) program in April and May, 2017.
Hundreds of people from the community stopped in and toured concepts from the Department of Neighborhoods by using the Microsoft HoloLens. City employees guided the community members through neighborhood designs in true size and scale, allowing Neighborhoods to deliver the message with clarity in a first-time ever HoloLens presentation.
HoloLens is cutting edge, mixed-reality technology created by Microsoft. It allows the viewer to engage with holographic 3D visualizations of models. In this case, the models were building and neighborhood proposed changes for HALA. HoloLens has advantages over other types of virtual reality in that it allows for the viewer to interact with the holograms as though they were real, while being in a shared experience with others.
The city's goal in using HoloLens was to find a simple, affordable way to demo their neighborhood project to the community. And if they could do so in a way that would allow the community to visualize the concepts better it would provide a more meaningful exchange of ideas and feedback.
"We hear a lot of folks saying that drawings and maps are difficult to read AND that they don't realistically depict changes. Zengalt Vyzn and HoloLens allowed us to provide a physical experience to folks who are struggling to visualize and feel proposed changes that are usually shown in 2-D."

Susie Philipsen, Sr. Public Relations Specialist
The City planners were able to walk through the demos using the state-of-the-art experience that only HoloLens provides, allowing for immersive content and a collaborative shared experience.
"Many people walked away and said that they had a much better sense of what we are proposing than they had before they tried the Hololens/Vyzn model. That is a big win for us. People of all ages took the technology, especially seniors, and were able to provide more informed feedback based on what they saw and felt." - Susie
The city partnered with Zengalt, Inc (Bellevue, WA), a HoloLens developer, to create the experience using their software app, "Zengalt Vyzn". Zengalt Business Development met on site with the City of Seattle to provide consultation on using the HoloLens as a demo tool for their initiative.
"Zengalt has been very hands-on with constructive problem-solving while we worked out everything from model optimization to how to stage the experience at our public open houses." - Susie
The City was able to quickly get started and adopted the Zengalt Vyzn application software. This allowed the City to take their models from Sketchup drawings they previously had, and optimize them for use. There was a small learning curve, but the Zengalt team was ready to assist throughout the entire consulting process.
Zengalt Vyzn | INSTRUCT. INFORM. EDUCATE.
Zengalt, located in Bellevue, WA USA creates media apps on XBox and the entire Windows platform, and is a HoloLens pioneer for museums, architects and other industries.
Zengalt Vyzn can be used with any common 3D modeling software, such as Revit or Sketchup, to render your 3D design vision with perfect clarity and confidence. Win over clients with WOW factor while delivering a stunning, state of the art presentation on Microsoft HoloLens. For a complete product description see Zengalt Vyzn in the HoloLens Store .
Find out more about the 30 million users worldwide on Zengalt apps at http://www.zengalt.com For more info please contact info(at)zengalt(dot)com