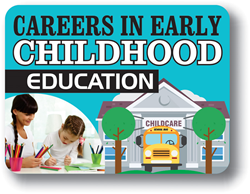 Prosser, WA (PRWEB) August 08, 2017
Red Comet is introducing several new high school courses that are related to career preparation and career readiness. For the 2017-18 school year, students may enroll in the course 'Careers in Early Childhood Education'.
It's difficult to think of anything that has as much impact on the world and our society as child care, education and development. Starting a career in early childhood education, child care and development can be a smart business decision that has a significant impact on the community. In this course, students study about a variety of topics related to setting up and running a successful enterprise in early childhood education. They understand about their impact on community, organizational roles & responsibilities, state laws, hiring the right people for the right job, curriculum development, interacting with parents, hygiene etc. Red Comet's course helps students better understand the different factors involved in choosing and pursuing a career path in the exciting and fulfilling field of early childhood education.
Red Comet (http://www.redcomet.org) is a Fully Accredited (NWAC, AdvancED) organization that has been offering online courses for credit since 1999. Students have over 175 courses to choose from. Many of these courses are also approved by the NCAA organization. In the State of Washington, the Office of Superintendent of Public Instruction (OSPI) has approved the Red Comet program as a "Multi-District Online Provider," "Online Course Provider," and "Online School Program." In a statewide survey, Red Comet received high ratings for student satisfaction. Students use the Red Comet online program for original credit, credit retrieval, and credit recovery.
For Immediate Release
Contact Information:
Ms. Sapna Ganeshan
President,
Red Comet
1-888-730-1101