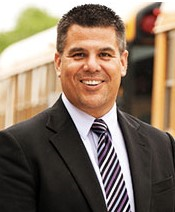 Prosser, Wa (PRWEB) August 10, 2017
Red Comet is pleased to announce that Mr. Trevor Greene who was the 2013 National High School Principal of the Year has joined Red Comet's Executive Advisory Board.
Mr. Greene taught Spanish and English for dozen years at the middle school, junior high, and high school levels, followed by three years in administration, before becoming the principal at Toppenish High School (THS) on the Yakama Indian Reservation in Toppenish, WA. During his tenure at THS, the school (94 percent minority,100 percent poverty) achieved a 94 percent graduation rate, and became the most decorated high school in Washington State – named a STEM Lighthouse School by the Office of Superintendent of Public Instruction, twice honored as a state Golden Apple recipient, and presented with five Washington Achievement Awards.
Mr. Greene was selected as the 2012 Washington State High School Principal of the Year and, in 2013, received National Principal of the Year honors from the National Association of Secondary School Principals (NASSP). Mr. Greene then fulfilled a one-year fellowship as a Principal Professional Development Specialist by the Association of Washington School Principals (in conjunction with the Bill & Melinda Gates Foundation), where he worked with K-12 principals state wide.
As a member of the Executive Advisory Board, Mr. Greene will offer strategic guidance and support to Red Comet's executive team and will help position Red Comet as a premier online program in the State of Washington and beyond.
Red Comet (http://www.redcomet.org) is a Fully Accredited (NWAC, AdvancED) organization that has been offering online courses for credit since 1999. Students have over 175 courses to choose from. Many of these courses are also approved by the NCAA organization. In the State of Washington, the Office of Superintendent of Public Instruction (OSPI) has approved the Red Comet program as a "Multi-District Online Provider," "Online Course Provider," and "Online School Program." In a statewide survey, Red Comet received high ratings for student satisfaction. Students use the Red Comet online program for original credit, credit retrieval, and credit recovery.
For Immediate Release
Contact Information:
Ms. Sapna Ganeshan
President,
Red Comet
1-888-730-1101