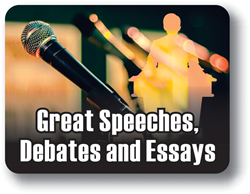 Prosser, WA (PRWEB) August 09, 2017
Red Comet is introducing several new high school courses in the subject area of English & Language Arts. For the 2017-18 school year, students may enroll in the advanced English course Great Speeches, Debates & Essays.
In the Great Speeches, Debates and Essays Course, students will not only learn about historical pieces of literature and oratory, but will also examine their use of language, how messages are communicated and delivered for the desired effect. This form of communication is so vital because time and time again, it has shaped history. Aside from events beyond our control, nothing has shown to have as much power as a well-performed speech. By the end of this course, students will understand how to analyze and respond to speeches, debates and essays, how to write clear arguments and counterarguments and deliver with emotion and command of the English language.
Red Comet (http://www.redcomet.org) is a Fully Accredited (NWAC, AdvancED) organization that has been offering online courses for credit since 1999. Students have over 175 courses to choose from. Many of these courses are also approved by the NCAA organization. In the State of Washington, the Office of Superintendent of Public Instruction (OSPI) has approved the Red Comet program as a "Multi-District Online Provider," "Online Course Provider," and "Online School Program." In a statewide survey, Red Comet received high ratings for student satisfaction. Students use the Red Comet online program for original credit, credit retrieval, and credit recovery.
For Immediate Release
Contact Information:
Ms. Sapna Ganeshan
President,
Red Comet
1-888-730-1101