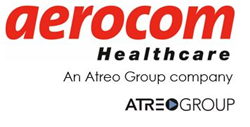 Hospitals today are confronted with upgrading their systems either because their provider is requiring them to or because it's just time to improve the functionality of their systems
Denver, Colo. (PRWEB) August 03, 2017
Atreo Group, representing three companies that specialize in pneumatic transport solutions for hospitals, will be exhibiting at the American Society for Healthcare Engineering (ASHE) Annual Conference & Technical Exhibition, Aug. 6-9 in Indianapolis.
Aerocom Healthcare offers hospitals with other manufacturers' systems an option to upgrade their pneumatic tube systems with minimum disruption while delivering the latest technology to support clinical operations.
"Hospitals today are confronted with upgrading their systems either because their provider is requiring them to or because it's just time to improve the functionality of their systems," says Atreo Group President Harry Pliskin. "We can reduce long-term costs, retaining original equipment and infrastructure, while ensuring cost transparency with a future without unanticipated hardware or software upgrades."
Aerocom pneumatic tube systems offer industry-leading features with clinical benefits designed to enhance workflow, efficiency and patient care. Aerocom is a world leader in pneumatic tube systems for hospitals with more than 1,800 systems in 80 countries. Aerocom Healthcare has pneumatic tube system customers in numerous locations across the U.S. and Canada.
To learn more about Atreo Group and its companies, visit booth 1115 at the ASHE Annual Conference & Technical Exhibition.
About Atreo Group
Atreo Group combines three companies with 100+ years in the healthcare automated material transport market. TransVac Solutions (http://www.transvacsolutions.com), established in 1971, is a leading provider of automated waste, recycling and soiled linen collection and transport systems for hospitals. Aerocom Healthcare, LLC (http://www.aerocomhealthcare.com) provides industry-leading pneumatic tube systems for new hospitals, expansions or upgrades to existing systems in the U.S. and Canada. Atreo Services (http://www.atreoservices.com) provides on-demand and preventive maintenance programs, spare parts and training for hospital pneumatic transport solutions. Visit atreogroup.com to learn more.