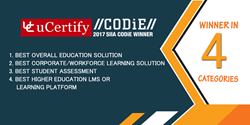 We share these awards with our schools, educators and partners. Their insights, input and enthusiasm has shaped uCertify into a top learning platform - Manish Gupta, CEO uCertify
(PRWEB) August 04, 2017
At the 2017 CODiE awards, known as the "Oscars" for education technology, uCertify was named the Best Overall Education Solution.
In addition to winning the top award, uCertify also took home three additional CODiEs for Best Corporate / Workforce Learning Solution, Best Higher Education LMS or Learning Platform and Best Student Assessment Solution.
All CODiE winners of the 35 categories are automatically considered for the ultimate top award - the Best Education Solution award. The top award recipient is determined by the highest combined scores from two rounds of industry judging and voting.
CODiE Award recipients are the companies producing the most innovative Business and Education technology products across the country and around the world. With four wins, uCertify won the most CODiEs among all participants. uCertify now has won a total of 19 CODiEs in last four years. See all the winning products here.
"We are absolutely thrilled to be the recipient of top honors at the CODiEs" said Manish Gupta, CEO of uCertify, "We share these awards with our schools, educators and partners. Their insights, input and enthusiasm has shaped uCertify into a top learning platform."
uCertify is highly interactive, cloud-based and device-enabled, teaching and learning management platform for online, anywhere, anytime that can be used for both traditional and competency-based learning. The uCertify platform is equally effective for self-paced, instructor-led or blended learning. uCertify is specifically designed to deliver career, vocational, workforce development & readiness, and corporate training programs. In addition to the learning platform, uCertify comes complete with over 400 ready to use titles.
"SIIA's 2017 Education Technology CODiE Award winners were an amazing group this year, and demonstrated how these technologies are making an impact for students, faculty and administration." Said Bridget Foster, senior vice president and managing director of the Education Technology Industry Network (ETIN) of SIIA. "Each honoree deserves accolades and we are pleased to add our congratulations to all of this year's CODiE Award winners."
The winner announcement was made by the Software & Information Industry Association (SIIA), the principal trade association for the software and digital content industries, during the annual Education Impact Symposium in San Francisco.
The SIIA CODiE Award win is a prestigious honor as each award winner was reviewed by educators and administrators, whose evaluations determined the finalists. SIIA members then reviewed the finalists and their votes were combined with the scores from the industry experts to select this year's CODiE Awards winners.
More information about the Awards is available at http://www.siia.net/codie
For more information:
uCertify Communications Contact:
Nancy Kesharwani, 925 302 6634, nancy(at)ucertify(dot)com
SIIA Communications Contact:
Allison Bostrom, 202.289.7442, abostrom(at)siia(dot)net
About the CODiE Awards
The SIIA CODiE Awards is the only peer-reviewed program to showcase business and education technology's finest products and services. Since 1986, thousands of products, services and solutions have been recognized for achieving excellence. For more information, visit siia.net/CODiE.