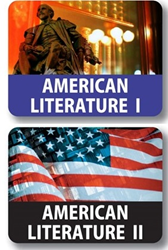 Prosser, WA (PRWEB) August 10, 2017
Red Comet is introducing several new high school courses in the subject area of English & Language Arts. For the 2017-18 school year, students may enroll in the courses American Literature I & II.
In American Literature I, students survey literature from the beginnings through 1865. American Literature II continues the study of important literature in American heritage after the Civil War and until the present day.
These two courses expose students to sermons and essays to short stories, poems, and novels, the Modernist Period, Harlem Renaissance and the Lost Generation. Students will learn about the periods of Realism and Naturalism and study literary devices, such as setting, irony, tall tales, and social themes. By the end of these courses, students would have read the works of many of America's greats including Anne Bradstreet, Jonathan Edwards, Henry David Thoreau, Edgar Allen Poe, Nathaniel Hawthorne, and Emily Dickinson, T.S. Eliot, Robert Frost, Emily Dickinson and more. Red Comet's courses in American Literature will help students gain an understanding and appreciation for the variety and richness of works produced during several periods by various American authors.
Red Comet (http://www.redcomet.org) is a Fully Accredited (NWAC, AdvancED) organization that has been offering online courses for credit since 1999. Students have over 175 courses to choose from. Many of these courses are also approved by the NCAA organization. In the State of Washington, the Office of Superintendent of Public Instruction (OSPI) has approved the Red Comet program as a "Multi-District Online Provider," "Online Course Provider," and "Online School Program." In a statewide survey, Red Comet received high ratings for student satisfaction. Students use the Red Comet online program for original credit, credit retrieval, and credit recovery.
For Immediate Release
Contact Information:
Ms. Sapna Ganeshan
President,
Red Comet
1-888-730-1101