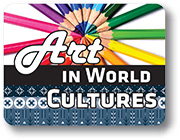 Prosser, WA (PRWEB) August 10, 2017
Red Comet is introducing a new course in Arts to help students gain an understanding and appreciation for art from various parts of the world. For the 2017-18 school year, students may enroll in the 'Art in World Cultures' course which will take the students on a tour to various cultures throughout the globe.
Art is one of the highest expressions of any culture or society. Red Comet's Art in World Cultures course will help the student learn about art from all over the world. This course covers art from several periods and regions. Students learn about the beauty of prehistoric art which includes cave paintings, megaliths and sculptures. In this course, students also study about the incredible Roman, Early Christian and medieval art. The course also dwells on the spectacular art produced in the Spanish world as well as Asian art. Upon completing this course, students will not only have a good understanding and appreciation for art from different parts of the world but also they will be able to appreciate the uniqueness as well as diversity.
Red Comet (http://www.redcomet.org) is a Fully Accredited (NWAC, AdvancED) organization that has been offering online courses for credit since 1999. Students have over 175 courses to choose from. Many of these courses are also approved by the NCAA organization. In the State of Washington, the Office of Superintendent of Public Instruction (OSPI) has approved the Red Comet program as a "Multi-District Online Provider," "Online Course Provider," and "Online School Program." In a statewide survey, Red Comet received high ratings for student satisfaction. Students use the Red Comet online program for original credit, credit retrieval, and credit recovery.
For Immediate Release
Contact Information:
Ms. Sapna Ganeshan
President,
Red Comet
1-888-730-1101