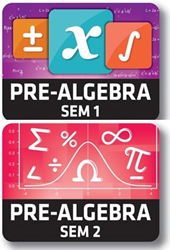 Prosser, WA (PRWEB) August 17, 2017
Red Comet is introducing a new course in Pre-Algebra to help students struggling in mathematics to make the transition from middle school mathematics to high school algebra. For the 2017-18 school year, students may enroll in the Pre-Algebra course which will prepare the student to effectively handle the challenges and complexities of a full-fledged high school algebra course.
Red Comet's Pre-Algebra course covers all key topics essential to mastering Algebra while linking the content to foundational mathematical skills taught in middle school. Students further hone their skills in key middle school math concepts while learning to apply these concepts in more advanced settings. This course is highly recommended for students entering the 9th grade and would be an ideal summer course to take right after completing 8th grade.
Red Comet (http://www.redcomet.org) is a Fully Accredited (NWAC, AdvancED) organization that has been offering online courses for credit since 1999. Students have over 175 courses to choose from. Many of these courses are also approved by the NCAA organization. In the State of Washington, the Office of Superintendent of Public Instruction (OSPI) has approved the Red Comet program as a "Multi-District Online Provider," "Online Course Provider," and "Online School Program." In a statewide survey, Red Comet received high ratings for student satisfaction. Students use the Red Comet online program for original credit, credit retrieval, and credit recovery.
For Immediate Release
Contact Information:
Ms. Sapna Ganeshan
President,
Red Comet
1-888-730-1101