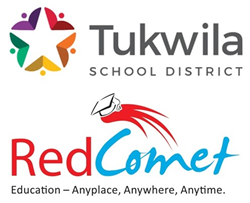 Prosser, WA (PRWEB) August 10, 2017
Red Comet is partnering with Tukwila School District in Washington State to launch a brand new Alternative Learning Education program that will cater to students residing in King County and beyond. Washington State Office of Superintendent of Public Instruction (OSPI)'s Alternative Learning Department approved Foster High School as a Multidistrict Online School Program that will cater to students who seek flexible delivery options to obtain career and college readiness credits ─any time, any place, anywhere learning environment.
Tukwila Online Program will offer core academic, enrichment, and career and technical education courses for students in grade 6-12. This is a perfect option for traditional students looking for alternatives to manage personal, family, and school obligations. Students may enroll in this program for original credit, credit recovery or retrieval and have the option of enrolling in not only core courses but also in over 50 career / elective options. Tukwila School District being a public school district in Washington State, enrollment in this program is tuition free to students residing in Washington State.
Red Comet (http://www.redcomet.org) is a Fully Accredited (NWAC, AdvancED) organization that has been offering online courses for credit since 1999. Students have over 175 courses to choose from. Many of these courses are also approved by the NCAA organization. In the State of Washington, the Office of Superintendent of Public Instruction (OSPI) has approved the Red Comet program as a "Multi-District Online Provider," "Online Course Provider," and "Online School Program." In a statewide survey, Red Comet received high ratings for student satisfaction. Students use the Red Comet online program for original credit, credit retrieval, and credit recovery.
For Immediate Release
Contact Information:
Ms. Sapna Ganeshan
President,
Red Comet
1-888-730-1101