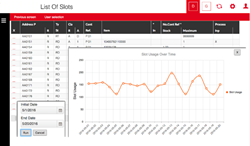 Infinite Cloud is the only AS/400 modernization toolset in the marketplace which allows screens this sophisticated to deploy within days and not months of editing and remediating
LAGUNA NIGUEL, CA (PRWEB) August 03, 2017
Infinite Corporation, a global Software and Services Provider, has announced today its latest version of Infinite Cloud. Infinite Corporation is the world's best-selling AS/400 migration toolset.  This new version of Infinite Cloud provides additional funcitonalityl for compatible replacement of legacy AS/400 terminal emulation mode with easily understood graphical screens deployed to the user via browser. This new version of Infinite Cloud is a must for on premise IBM I Power system users who want to deploy screens via browser.
Infinite Corporation has long provided the ability to migrate IBM I (AS/400) applications to open platforms like Linux and Windows and the database to Oracle or MS SQL. But modernization is not complete when the user must continue to use 5250 emulation software. Infinite has filled this need with a graphical interface with absolutely no loss of performance.
Version 4 provides many new features that make screen design more efficient. It also incorporates new tools to make screens more interesting – incorporate company and competitor news when the user signs on. A web link agent allows you to add stock tickers, calendars, currency updates. Chart data reported on the screen for clearer, crisper communication.
"Infinite Cloud is the only AS/400 modernization toolset in the marketplace which allows screens this sophisticated to deploy within days and not months of editing and remediating," said Raquela Kaplan, Marketing Manager, Infinite Corporation,
Infinite Corporation is the global leader in AS/400 migration toolsets and this  announcement of Infinite Cloud, V4 builds on the legacy.  
 
About Infinite Corporation
Infinite Corporation is a global Software and Services provider. The company enjoys over 100,000 installations in 56 countries. Infinite operates from offices on 4 continents. Its expertise is represented in several practice areas. These include legacy applications migration, the implementation of enterprise scale database architecture and the Cloud-based deployment of business applications. Infinite Corporation operates from Headquarters offices in Orange County, California, Buenos Aires, Argentina, Madrid, Spain and regional offices worldwide.
For more information, please visit http://www.infinitecorporation.com