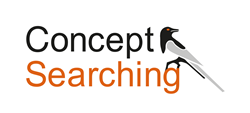 Managing content has now become mission critical, and our core competencies of multi-term metadata generation, auto-classification, and taxonomy management remain leading-edge and deliver return on investment out of the box."
McLean, VA, US and Stevenage, UK (PRWEB UK) 3 August 2017
Concept Searching, the global leader in multi-term metadata generation, auto-classification, and taxonomy management software is pleased to announce release 5.4.3 of the conceptClassifier platform.
Three new applications are part of this platform release: conceptClassifier for Exchange, conceptClassifier for Box, and conceptClassifier for OpenText Content Suite.
conceptClassifier for Exchange supports:

Crawling
Classification
Migration from Exchange to any supported destination
conceptClassifier for Box supports:

Crawling
Classification, with write-back to classification templates
Migration to/from Box
conceptClassifier for OpenText Content Suite supports:

Crawling
Classification, with write-back to single value and multi value text fields
Migration to/from Content Suite
This release supports full text encryption of raw extracted document content. This was previously stored in an obfuscated, compressed, binary format, and now crawled data is optionally encrypted, using Advanced Encryption Standard (AES), and is also run through already existing mechanisms.
Release 5.4.3 includes enhancements to conceptTaxonomyManager, which was developed for subject-matter experts, is highly interactive, and includes taxonomy features still unique in the market. Enhancements include:
Rules/clues on reused terms can now be restricted to a single reuse location, rather than to all locations
Clues can be imported in bulk, at both the root level, and as children of hierarchical clues
Changes to the taxonomy structure have been simplified, with the ability to copy/move clues between terms and between the root level and child level of hierarchical clues
Precise metadata filtering within conceptTaxonomyManager browse/search now supported with the use of AND/OR expressions
conceptTaxonomyManager now supports the ability to view near misses, documents that were almost classified, allowing business owners to quickly identify edge cases within their classification rules
Several other administration changes have been made, including the availability of new reports and many improvements to the end-user experience when completing day-to-day activities.
"This release contains a multitude of enhancements to the conceptClassifier platform," commented Michael Paye, CTO of Concept Searching. "With this broad set of new capabilities, we are building on our tradition of excellence to enable our clients to develop and deploy content applications that drive their business. Managing content has now become mission critical, and our core competencies of multi-term metadata generation, auto-classification, and taxonomy management remain leading-edge and deliver return on investment out of the box."
About Concept Searching
Concept Searching is the industry leader specializing in semantic metadata generation, auto-classification, and taxonomy management. Platform agnostic, Concept Searching also has a Microsoft Gold Application Development competency, and offers a complete suite of SharePoint and Office 365 solutions. The award winning technologies encompass the entire portfolio of unstructured information assets in on-premises, cloud, or hybrid environments. Clients have deployed the intelligent metadata enabled solutions to improve search, records management, identification and protection of privacy data, migration, text analytics, eDiscovery, and enterprise social networking applications.
Concept Searching is headquartered in the US with offices in the UK, Canada and South Africa. For more information about Concept Searching's solutions and technologies visit http://www.conceptsearching.com.
All product and company names herein may be trademarks of their respective owners.