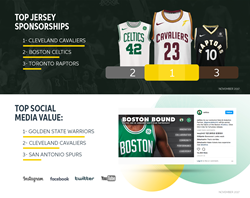 "Our Beyond the Broadcast" index breaks out value by signage location and scores each brand exposure based on six factors, going the extra mile compared to other solutions on the market which only offer limited visibility into data."
Santa Monica, California (PRWEB) August 03, 2017
GumGum Sports, the leader in sports media valuation using computer vision technology, today announced "Beyond the Broadcast™" - a valuation index for current and prospective sponsors during the 2017-2018 NBA season. The index will offer NBA sponsors a better understanding of the value assets (including jersey sponsors, as well as current assets in games) seen across team-owned social media are driving within the league. The NBA benchmark data will be layered into the comprehensive media valuations GumGum Sports performs for rights holders and brand clients, who also receive reporting on the enormous incremental value driven by non-team owned accounts. To receive a copy of the index, visit gumgum.com/nba
"We chose the NBA because it is the leading edge in terms of sports leagues with social media. The NBA fosters a healthy content syndication ecosystem where 70-90% of an NBA team's sponsorship media exposure comes from non-team owned accounts," said Jeff Katz, General Manager of GumGum Sports. Brands are getting more sophisticated and want to ensure media valuations are comprehensive, actionable and based on a rigorous methodology. "Our Beyond the Broadcast" index breaks out value by signage location and scores each brand exposure based on six factors, going the extra mile compared to other solutions on the market which only offer limited visibility into data."
GumGum Sports social media solution provides the only pure universal and global view of valuation in today's measurement market through the ability to track all team and non-team owned accounts. These insights provide an increased understanding of holistic value for key stakeholders within the NBA - teams, brands and agencies.
GumGum Sports already provides media valuation services across the NBA, NFL, NHL, MLB, EPL, MMA as well as Stadium, a new, first-of-its-kind multi-platform sports network. Using advanced computer vision technology (not just logo detection) GumGum Sports scans both team-owned and non-owned accounts throughout the long tail of social media and provides social media valuation metrics by sponsor location.
"GumGum has an appreciation for the high standards of brands when delivering and reporting on digital marketing campaigns, said Ophir Tanz, CEO Of GumGum. "We will bring this same innovation and accountability as brands evaluate their sports sponsorship investments."
# # #
About GumGum Sports
GumGum Sports is a division of GumGum that leverages GumGum's computer vision technology to help brands, agencies and rights holders go Beyond The Broadcast™ to capture the full media value of sports sponsorships that include visible signage across television and social media. By analyzing live broadcasts, social media and digital streaming, GumGum Sports provides accurate, timely, and comprehensive media valuations. They enable rights holders to retain and grow partner revenue and give sponsors the ability to track and optimize media value across a portfolio of sponsorships.