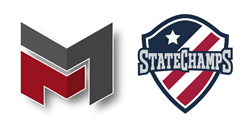 Mascot Media is excited about teaming up with StateChamps' online ticketing to offer a complete electronic and custom printed ticketing service.
Birmingham, AL (PRWEB) August 07, 2017
Mascot Media and StateChamps have agreed on a partnership to combine their industry leading online ticketing platform and custom printed ticket service to form a comprehensive service for client schools.
"Mascot Media is excited about teaming up with StateChamps' online ticketing to offer a complete electronic and custom printed ticketing service," said Katie McEntire, VP Client Operations of Mascot Media. "The technology StateChamps brings to the table will make athletic events so much easier for our client schools and enable us to meet all our partner schools' event management needs."
"Online ticketing is important for schools for three main reasons," StateChamps CMO Eric Housh said. "The fans want it, it's more secure than cash, and the data is important to help athletic programs connect with fans. Until now, though, online ticketing required school staff to do a lot of extra work and make costly investments in scanners, printers, and internet infrastructure."
StateChamps' patent-pending Share and Tear™ Technology delivers electronic tickets to an app on the ticket purchaser's smartphone. The ticket buyer then presents their phone at the gate, and the digital ticket is "torn" on screen by gate staff. "We designed the digital tearing process to be almost identical to the paper ticket redemption process;" Housh explained, "it requires neither ticket scanners nor internet, and gate staff can be trained in seconds."
In addition to Share and Tear™, StateChamps has also developed a unique and simple point-of-sale app, StateChamps POP, designed specifically for use in schools. High schools can now accept credit card payments at their events, making it easier for communities to make purchases and support their schools.
StateChamps' team of over 80 ticketing professionals power an "Omni-Service" approach. After the school sends the schedule and ticket price information, StateChamps does the work to set everything up. "The school gets secure, powerful, and hassle-free online ticketing at no cost, with no work required," Housh said.
The StateChamps online ticketing solution will be included at no additional cost for new and existing Mascot Media client schools and will integrate seamlessly with Mascot Media's sports network suite consisting of mobile apps, printed schedule posters, custom printed tickets and athletic website service.
About StateChamps
StateChamps is the leading provider of online ticket sales solutions for high schools in the United States. Since launching in late 2015, StateChamps has reached exclusive ticketing deals with hundreds of high schools nationwide, including seven state high school athletics associations. StateChamps was also recognized as a preferred vendor and online ticket supplier of the National Interscholastic Association of Athletic Administrators. For more information, please visit statechamps.com.
About Mascot Media
Partnering with schools nationwide, Mascot Media offers the most comprehensive marketing, branding and fundraising service in the high school athletic industry. Serving schools since 2009, Mascot's suite of mobile apps, ticketing, print promotions, schedule products, fundraising and websites provides empowering technology, mission critical products, services, and fundraising opportunities that propels high schools across the country to levels previously reached only by major colleges or professional teams. Go to http://www.mascotmedia.net to see how ANY school can create their own sports network or just search for us in iTunes™ or GooglePlay™.