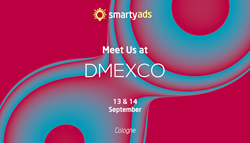 Derivative trading in the AdTech is something that we all have been waiting for and now it's here
New York, NY (PRWEB) August 15, 2017
The Blockchain Futures Trading System will allow using smart contracts and cryptographically secure ledgers to trade derivatives in the adtech market at large scale. SmartyAds will present the Blockchain AdStack solution both as SmartyAds trading business and a white label. The company will also introduce significant product updates and its integration of the AI technology into end-to-end solutions.
SmartyAds is among the first adtech companies to apply the Blockchain technology to advertising transactions. Blockchain systems reduce the cost of transactions, provide an additional layer of verification in the trading environment and bypass third-party intermediaries. Blockchain's decentralized database of distributed ledgers is held and verified by multiple members, which minimizes the risk of the advertising fraud almost to zero.
The company believes that the Blockchain technology will positively impact the programmatic landscape, shaping the end-to-end transparent and trustworthy validation chain for all the players. This year, SmartyAds added Programmatic Audio to its current trading business offers, covering every existing medium with it that exist so far. Of course, it is all available as an Enterprise SaaS and White Label solutions for the SSP/DSP/DMP.
"Not only the Blockchain technology is beneficial for transparency, privacy and anti-fraud, but it builds a whole new ecosystem that can double or even triple the current market", says SmartyAds CEO Ivan Guzenko. Derivative trading in the AdTech is something that we all have been waiting for and now it's here."
Attendees can schedule a meeting with SmartyAds at dmexco via this online form.
How to find SmartyAds at dmexco: Booth E016, Hall 9, Koelnmesse, Deutz-Mülheimer-Straße 111, 50679 Cologne.
About SmartyAds
SmartyAds is the full-stack programmatic advertising platform that encompasses fully automated technologies, serving the global digital advertising ecosystem.
About Dmexco
Dmexco is the global business and innovation platform of the digital economy. It enables visitors to experience disruptive trends and defines the business potential of tomorrow. This is the meeting place for makers and shakers, visionaries, marketing and media professionals, techies, and creative thinkers. dmexco combines the leading trade fair for digital marketing with an extraordinary conference — and it's the sector's top event of the year.