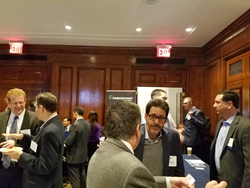 New York, NY (PRWEB) August 09, 2017
Celebrating 50 years, the Wall Street Technology Association (WSTA®), a not-for-profit organization that provides financial IT professionals a forum to learn from and connect with each other, is pleased to announce the Bronze Affiliates who joined since March 2017: China Unicom Americas, Noble Systems, Stantive Technologies, and TIBCO Software. View all current Affiliates here: http://www.wsta.org/current-wsta-affiliates/. Additionally, two new benefits, a demo opportunity and a branded promotion to members, have been added to the Silver Affiliate Program. View more Affiliate Program info here: http://www.wsta.org/affiliate-program-info/
The WSTA Affiliate Program, established in 1988, is an integral component of the association. WSTA Affiliates contribute significantly by sponsoring educational programs and networking opportunities for the membership. The Affiliate Program strengthens the bonds between WSTA members and the companies that service the technology needs of the financial community. Platinum Affiliates participate on the Content Advisory Committee to provide insight and direction on topics covered at WSTA seminars, roundtables, and panels, as well as in the Digital News.
About the Wall Street Technology Association (WSTA)
Celebrating 50 years, the Wall Street Technology Association (http://www.wsta.org) provides financial industry technology professionals, vendors, service providers, and consultants forums to learn from and connect with each other. The WSTA facilitates educational seminars and networking events where members meet and exchange ideas and best practices that assist them in effectively capitalizing on technology advances and dealing with financial industry business challenges. Founded in 1967, the WSTA is a not-for-profit association with a long history of evolving to meet the needs of its members.
Financial Firm Members
WSTA financial firm members are employed at banks, brokerages, hedge funds, insurance companies and other financial firms. The WSTA currently has about 2,400 members from over 50 different firms; 81% of the members hold senior titles such as CIOs, CTOs, Vice President, Director and Manager. The remaining 19% hold other titles such as analysts, engineers, architects, etc. The WSTA also reaches over 2,200 prospective financial firm technology professionals with information about educational and networking opportunities.