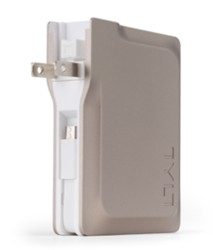 Simi Valley, CA (PRWEB) August 03, 2017
This intellectual property covers portable charging devices having an electrical storage module that can switch between a charging/discharging mode and which charge directly from a standard electrical socket.
 
Rami Rostami, CEO of Tylt believes that this signals an exciting time for the company. "We have come to understand that the preferred method of choice for consumers is charging up their portable chargers quickly within the wall outlet using prongs, it's simply the fastest and easiest way to get powered up and on your way. With the industry now converting over to this rapid charge technology led by the Carriers, we believe it will be a matter of time before most portable chargers are using our AC Prong technology. Under the TYLT brand we will be launching several new and industry changing form factors incorporating our innovative patented technology"
 
ABOUT TYLT
The company was founded in 2017 with the mission of commercially exploiting this new technology and market direct to consumers as well as global enterprise partners and increase market share in the portable charging segment.
For more information, visit http://www.tylt.com
 
Contact Information:
Contact Person: Karen Morgan - Director of Marketing Operations
Company Name:  TYLT 
Address: Tylt, 685 Cochran Street, Ste. #200, Simi Valley, CA 93065        
Email Address: Karen.Morgan(at)tylt.com