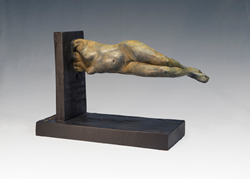 Our success shows in Art Santa Fe's attendee and sales numbers. We're excited to put roots down in Santa Fe's vibrant art scene and are confident the community will enjoy what we are planning for 2018 and beyond. -Eric Smith, Redwood Media Group CEO
Santa Fe, New Mexico (PRWEB) August 03, 2017
Art Santa Fe, the four-day curated contemporary art show, convened at the Santa Fe Community Convention Center from Thursday, July 13, to Sunday, July 16. Now in its 17th year, the show saw a 15 percent growth in attendance and a 30 percent increase in sales. Redwood Media Group has owned the show for two years and announced today it will return to Santa Fe to host the 18th edition in July 2018.
Centered on the curatorial theme [FUSION], the 2017 show focused on the merging of artistic mediums and countless galleries and artists who came together to showcase their remarkable contemporary art. More than 8,000 visitors made the theme come alive with their attendance. The following artists and exhibitors received awards:
Best International Exhibitors: A Sanchez Gallery of Cancun, Mexico; Gallery Edel of Osaka, Japan; and Steidel Fine Art of London
Best New Exhibitors: Pippin Contemporary, Collazo Collection, and Gedion Nyanhongo Studio
Best Booth Design: GK Fine Art, Contemporary Art Projects USA, and Julie Schumer Fine Art
Sculpture Award: Sonja Metzler Collection, Ted Schaal Fine Art, and Prescott Gallery & Sculpture Garden
Directors' Award: True West Gallery, InArt Gallery, and Rainforest Baskets
Spotlight Artists: Gary Kim, Gabriel Collazo & Angela Brooks of the Collazo Collection, and Alfred Addo
LaunchPad Artist: Welde Carmichael
Redwood Media Group is renowned for its attention to detail and personalized focus when it comes to ensuring exhibitors' satisfaction. When exhibitor David Rudolph added a few more lights to his booth to dramatically highlight the artwork, he sold two original pieces—appropriately titled Light Switch—for $800 each in less than 10 minutes. Additionally, a couple from San Antonio arrived in town with the expressed intention of coming to Art Santa Fe to collect art for their new home. They not only bought Ricardo Lowenberg's Mi Frida III, Kelly Fischer's St. Bernard Pass II, and Alfred Addo's Head of the Pride, but they also purchased Zammy Migdal's Translation wall installation for their patio and pool area and commissioned another Migdal sculpture for their entryway.
"We specialize in bringing artists and industry professionals together, building strong partnerships within the community, and creating an unforgettable attendee experience," said RMG CEO Eric Smith. "Our success shows in Art Santa Fe's attendee and sales numbers. We're excited to put roots down in Santa Fe's vibrant art scene and are confident the community will enjoy what we are planning for 2018 and beyond."
Read more about the top sales and success stories on the Art Santa Fe blog.
As one of the newest additions to Redwood Media Group, which owns and produces fine art show exhibitions including Spectrum Miami and Artexpo New York, Art Santa Fe featured extraordinary art from around the world, specially curated programming, special events, and entertainment that showcased the thriving art landscape of Santa Fe. The city of Santa Fe is widely recognized as the third largest art market in the U.S. and one of UNESCO's Creative Cities due to the city's important achievements in arts and culture. For more information, visit http://www.artsantafe.com.
###
FOR MEDIA INQUIRIES AND IMAGES:
Jennifer Hobson-Hinsley
505 603 8643
Jennifer(@)jlhmedia(.)com
About Art Santa Fe
Art Santa Fe is an annual four-day gathering of exceptional artists and galleries from around the world, exploring world-class modern and contemporary art in Santa Fe, the third largest art market in the United States. The curated contemporary art show provides a unique opportunity for exhibitors and attendees alike to honor the region's deeply rooted cultural traditions while launching into the future with cutting-edge artwork and inspiring events. Art Santa Fe has over 17 years of experience and was ranked fourth in a national USA Today 10 Best Reader's Choice Award contest for "Best U.S. Art Festival" in 2015. For more information, visit http://www.artsantafe.com.
About Redwood Media Group
Since 2009, Redwood Media Group (RMG) has been revolutionizing the global fine art community by helping artists and gallery owners grow their businesses through fine art exhibitions and publications, art business education, mentoring, marketing, and social media. Today, RMG owns and operates six fine art shows: Artexpo New York, Spectrum Miami, Art San Diego, Artexpo Las Vegas, Art Santa Fe, and Red Dot Miami. Artexpo New York, the world's largest fine art trade show for 40 years and counting, attracts more than 30,000 art enthusiasts every year, including 4,500 industry buyers. Spectrum Miami and Red Dot Miami attract more than 38,000 art aficionados during Miami Art Week, an annual event that draws over 100,000 art collectors to the city. Over the past eight years, RMG has welcomed hundreds of thousands of visitors to their events, sold millions of dollars' worth of art, and helped thousands of unrepresented and established artists launch or grow their careers. Aside from hosting multiple high-end art shows throughout the year, RMG also owns Art Business News, an art industry publication.
For more information, visit:
http://www.redwoodmg.com, http://www.artbusinessnews.com, http://www.artexponewyork.com, http://www.art-sandiego.com, http://www.spectrum-miami.com, http://www.artexpolasvegas.com, http://www.artsantafe.com, and http://www.reddotmiami.com.