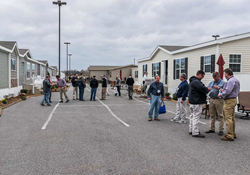 "We look forward to accommodating industry professionals who in years' past may have been unable to attend, or would have had to leave early."
Tunica, Miss. (PRWEB) August 14, 2017
Make your plans to attend the 2018 Tunica Show, the Southeast's largest industry trade show for manufactured housing professionals with an anticipated 2,000-plus in attendance and more than 70 new homes model to exhibit.
 
The 2018 Tunica Show will be held March 20-22, in Tunica, Miss., with pre-show events, including a new golf outing at River Bend Links Golf Course, beginning March 19. On March 20th, there will be a host of dynamic seminar speakers to present on areas of interest to help you improve and grow your business.
 
As a manufactured housing professional in the Southeast, attending the Tunica Show is essential to stay current with the latest industry trends, forecasts and strategies," Show Chairman Gene Rogers said.
 
"We also have received valuable feedback from previous attendees that adjusting the show dates and schedule would make for a more convenient experience in travel and month-end business obligations," Rogers said.
 
Organizers found that moving the show up one day in the week would allow attendees to more easily make it home for the weekend, and that moving the show back one week in March, too, would accommodate industry professionals who bear responsibility for month-end financials.
 
"We've received very positive response to this change," Rogers said. "We look forward to accommodating industry professionals who in years' past may have been unable to attend, or would have had to leave early."
 
As the Southeast's premier event for manufactured housing professionals, the 2018 Tunica Show presents an opportunity to witness the latest industry trends, tour model homes from the region's leading manufactured home builders, participate in informative seminars and network with colleagues.
 
Located at the Hollywood and Resorts Casinos, the 2018 Tunica Show attendance of approximately 2,000 manufactured housing industry professionals will represent in excess of 500 companies. For manufactured home community owners and managers, retailers, installers and builder/developers, the Tunica Show is the most significant trade event in a multi-state region that that attracts attendees from Illinois to Texas.
 
The more than 70 new model homes to be displayed come from 20 prominent manufacturers. They will be joined by more than 90 suppliers representing every facet of the manufactured housing industry, from manufactured home transport and installation, to building materials, financing and professional services. The number of exhibitors continues to grow and more participants will be added before the roster is finalized.
The Tunica Show allows exhibitors to showcase products and services at the location where qualified industry buyers come for ideas and inspiration. March is an optimal time to understand customers' wants and needs as they prepare for the region's spring selling season.
In addition to exhibitors, there will be a variety of business-building seminars conducted by knowledgeable experts on the topics of sales and business operations, home design trends, consumer financing and more. More information about our seminar programming will be sent out in the fall.
Another important change for this years' show is the special promotional money giveaway on Thursday at 2 o'clock in the manufacturer's exhibit area. Two different prizes for $500/each will be given to a lucky retailer, builder/developer and/or community manager who registers before the 2 o'clock deadline date in the SCMHI hospitality tent. The hospitality tent will be located across from the show office in the manufacturer's exhibit area. Registration for these two $500 giveaway prizes can start on Tuesday, March 20th. You must be present to win!
As an industry trade event, the 2018 Tunica Show is not open to the public. Attendee registration details will be announced in the coming months. Industry professionals interested in attending the show can stay updated on exhibitor and attendee registration, as well as other show details, by signing up for the newsletter at http://www.TheTunicaShow.com.
Show Produced and Managed by:
Show Ways Unlimited
Dennis Hill, Show Coordinator
(770) 587-3350
About: The South Central Manufactured Housing Institute
The South Central Manufactured Housing Institute is a non-profit trade-association dedicated to the promotion and advancement of the manufactured housing industry in Mississippi and Alabama. The Institute holds the Tunica Manufactured Home Trade Show annually in Tunica, Mississippi.